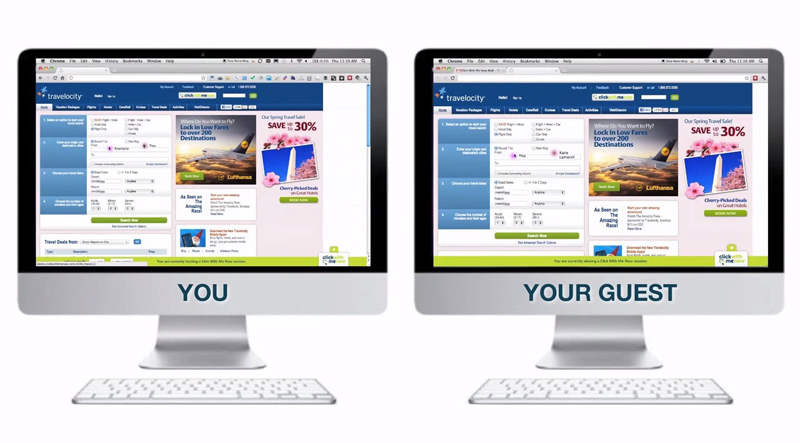 Following a state-wide competition, St. Louis startup Click With Me Now could make its way to DEMO, one of Silicon Valley's biggest startup showcases. Click With Me Now was selected from a group of seven Missouri startups to advance to the final stage of the nation-wide Startup America contest.
Other entrants in the Missouri competition included Stackify, Sqwid, Flux Education, Systematic Revenue, Material Mix, and Tax Planner. Each startup was tasked with creating a one minute video to pitch their idea, and out of all the entrants Click With Me Now was selected by a panel of judges to continue to the nation-wide level.
Click With Me Now, a graduate of the Capital Innovators accelerator program, was founded by Mike Behr, Mark Comiso, and Brian Handrigan in 2011. The company offers a simple screen sharing solution that doesn't require extra software and works directly within the browser, allowing users to quickly share their online experience in real time with friends, coworkers, or clients. Click With Me Now received $50,000 in seed funding following its acceptance into the Capital Innovators program earlier this year, and is currently running in closed beta.
The Startup America contest will result in eight startups in total making their way to the Silicon Valley event, where four will have the opportunity to pitch to investors and the other half will be given booth space in the DEMO Showcase Pavilion. In previous years, contestants sent by Startup America have won DEMO God Awards, even given the prestigious People's Choice Award. According to DEMO, over 90 percent of the companies that take part in the showcase receive funding within nine months of the event.
"Our fingers are crossed and we're cautiously optimistic," co-founder Brian Handrigan told the St. Louis Business Journal.
The Fall 2012 DEMO event is scheduled to run in Santa Clara, California for three days beginning on the first of October. Winners of the Startup America contest are set to be announced sometime before mid September.