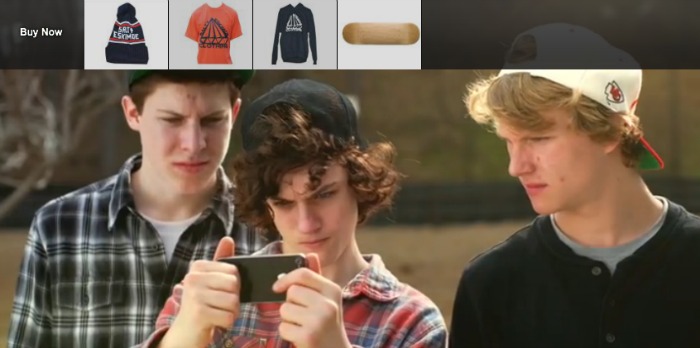 Think social video ecommerce is a fad? Think again. Cinsay, the creator of the Smart Store™ technology platform that allows sellers to embed coupons, offers, and product for sale into online videos, has proved that ads aren't the only way to monetize videos once they go viral. Cinsay announced this week that sellers who use their Smart Store™ technology convert at rate of 9 percent, which is 6 times the industry average of 1.5 percent.
According to Christian Briggs, CEO and Founder of Cinsay, "1 or 2% difference in conversion rates can mean millions of dollars to retailers".
Not only does Cinsay's social video eCommerce platform sell more items, it also increases engagement with the seller's items. 42% of people who view the videos that contain the Smart Store™ click to take action. Engagements like clicking link outs, making donations, as well as lead generation or 'request for information' features are included in this statistic.
These astounding conversion and engagement rates that Cinsay is generating with the company's Smart Store™ platform point to a larger trend in ecommerce: the death of the traditional online shopping cart. The Smart Store™ platform helps create a frictionless buying experience for viewers who want to purchase items that they see in online videos. According to recent statistics released by comScore, video views and creation grew by 660%. between February 2011 and February 2012. As the popularity of online video grows, Cinsay is perfectly positioned to make video production the best way to market products. Media Post and Website Magazine reported that consumers that 52 percent of viewers had more confidence after making a purchase online when ecommerce was accompanied with video.
Not only is social video changing the way that consumers think about making purchases online, it's also changing how consumers make purchases online. According to ABI Research and the Gartner Media Group, mobile ecommerce is the next frontier. According to ABI, 24.4% of commerce would be executed via mobile devices by 2017. Viewing video on tablets and Smartphones will increase by as much as 36% over the next 12 months, noted Gartner. Now that Cinsay has proved the social video has a better conversion rate than traditional shopping carts, the company is also moving into the mobile commerce space to replicate the seamless buying experience that it has created on the web.
Image provided by pond5 – the world's stock media marketplace.