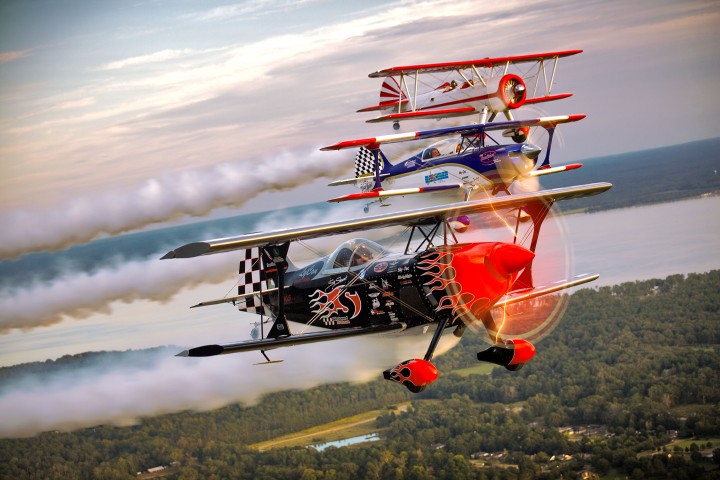 The Spirit of St. Louis Air Show & STEM Expo, presented by Boeing, will kick the tires and light the fires this weekend, May 3-4 at the Spirit of St. Louis Airport in Chesterfield.
In the air, the US Navy Blue Angels, flying their Boeing F/A-18s and their C-130 "Fat Albert," will headline a dynamic air show that features both current and historic aircraft. The Blue Angels will be joined by a B-17, B-25, TBM Avenger, T-6 Texan, SBD Dauntless, FG-1 Corsair, A-26 Lady Liberty, AD-5 Skyraider, F-8F Bearcat, Huey and Cobra helicopters, and world-class acrobatic flyers Patty Wagstaff, Skip Stewart and Michael Goulian. Helicopter, B-17 and B-25 flights will be available for the general public.
On the ground, an interactive STEM Expo, presented by MasterCard, featuring the latest in technology from Mastercard, Boeing, Emerson, Monsanto, and numerous other companies, organizations and educational institutions will inspire today's students towards science, technology, engineering and math (STEM) education and careers.
A hands-on Veteran's Village will celebrate and honor the service of our nation's Armed Forces, provide interactive experiences for attendees, allow the public to send H.E.R.O.E.S. care packages to active duty military, and provide career resources to Veterans.
Numerous static aircraft will also be on display, with in-cockpit experiences available for many of the aircraft. Boeing will also unveil the new EA-18G Growler and the P-8 Poseidon. Rumor has it that tours of the high-tech, submarine hunting, P-8 will be available.
"This will be an amazing experience, both in the air and on the ground," John Bales, head of the non-profit Spirit of St. Louis Air Show & STEM Expo and the director of the Spirit of St. Louis Airport, said. "The past, present and future will be on display for every generation, and we are excited about the impact this event will have on students of all ages."
Tickets for the May 3-4 Spirit of St. Louis Air Show & STEM Expo are available in advance at www.spirit-airshow.com for $10. Children 12-and-under and active duty military are free. Tickets at the gate are $12.
For more information and for tickets visit www.spirit-airshow.com.