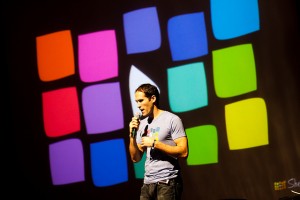 Running a startup requires late nights, early mornings, & enough elevator pitches to make your head spin. Luckily these startup founders are revealing the music that's the secret to keeping them staying sane.
Reece Pacheco is the CEO & Founder of Shelby.tv, a social video platform for users to aggregate all their friends video content being posted through Facebook, Twitter, & now Tumblr.
Being a recent graduate of Techstars' 2011 class, Reece has been busy promoting Shelby, and is now preparing for what seems to be a covert mission titled Project G.O.A.T.S. coming to SXSW this year.
Check out Pacheco's top tracks below and subscribe to the playlist on Spotify or Youtube.


Nine Inch Nails – Piggy: "This is how you have to think as a founder. Stop caring about what people think. Stop worrying about the no's and the lows and just keep going… "
Favorite lyrics: "Nothing can stop me now, 'cause I just don't care anymore…" 
Wolf Parade – I'll Believe In Anything: "This one is really bittersweet. Reminds me of some really good times, but also some dark days… Regardless, the lyrics are great for anyone who lives in NYC… and does startups…"
Favorite lyrics: "You know I'll believe in anything and You'll believe in anything Because nobody knows you And nobody gives a damn either way"
Yeasayer – Ambling Alp: "Such a fun song, but I didn't realize until later that the lyrics are so relevant to life in a startup…"
Favorite lyrics: "Now the world can be an unfair place at times, But your lows will have their compliment of highs, And if anyone should cheat you, Take advantage of or beat you raise your head, And wear your wounds with pride. You must stick up for yourself son, Never mind what anybody else done"
Grip Grand – Poppin' Pockets: "Awesome track… just so fun… and relatable for broke founders ;)"
Favorite lyrics: "Broakland is poppin' pockets. Don't even got no wallets. No coat inside our closets, So we can't go out tonight. So pop your pockets for us, Just turn 'em inside out. My lyrics are the only gold that I got in my mouth."
Alabama Shakes – I Found You: 
"H
eard this one recently via 
ex.fm
. So soulful. Such a great song… been listening to it again and again. Can't wait for the album…
"
Honorable Mentions:
Interested to hear what other CEO's are listening to? Suggest future CEO Mixtapes below!