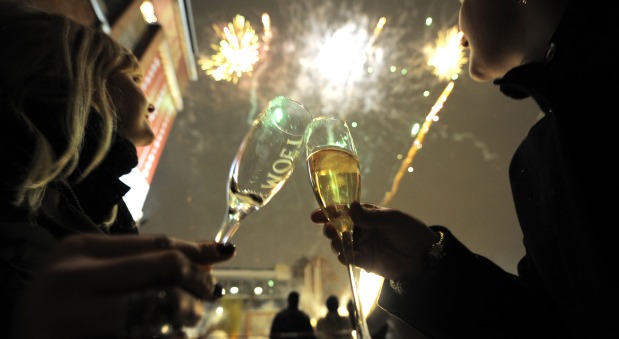 If any city knows how to celebrate in style, it's Chicago. Most of the city's startup entrepreneurs will be ringing in the new year together at Entrepreneur's Eve, an event to benefit the H Foundation's cancer research initiatives. Even if you have alternative plans this year, you can still celebrate in style with the help of Chicago startups.
Here are 5 startups that will help you figure out what to wear, what to drink, and even where to park.
For Dressing Tips: StyleSeek
StyleSeek helps men find personalized clothing and accessories suggestions and fashion advice by analyzing a user's StyleDNA. StyleSeek's Tumblr also has a variety of images and videos that will get your creative fashion juices flowing.
For Wine Pairing Suggestions: Winestyr
Winestyr cuts the distributors and retailers out of the wine supply chain so that wine lovers can order their favorite bottles directly from producers. While it's a little late to order a case for your new year's party, the site offers valuable information about American wines. Want to impress your new year's eve date? Better check out Winestyr a few hours before you go out to brush up on your knowledge. The Winestyr team has crafted tasting notes and stories about each of the wines offered on the platform to sound more conversational and less like the esoteric descriptions that are found between the covers of Wine Spectator.
Finding parking downtown in any big city is a drag. Finding parking downtown on the biggest party night of the year is a nightmare. Chicago-based ParkWhiz can help you find and reserve parking near your party destination before you head out for your night on the town. If you don't have a designated driver, plan to park overnight and catch a cab home.
For Late Night Munchies: GrubHub
After a night of drinking, you're going to need munchies, and you'll need to get them delivered. GrubHub will hook you up with the menus of restaurants that are open late night so that you can make your selections. GrubHub's "Track My Grub" feature allows you to track your food from the time that the delivery worker leaves the restaurant to the moment that it reaches your door. If you have to hold a hand over one eye to read the tracking information on your phone after your night out, go for it. Just make sure you can pull yourself together just in time to answer the door when your food comes.
For Your New Year's Resolutions: Retrofit
After you polish off a pizza delivered via GrubHub and the wine that you read about in Winestyr, you'll probably wake up feeling a little puffy. Thanks to weight loss personal management startup Retrofit, you'll have a group of coaches and a personalized program waiting for you in the morning to cheer you on in your pursuit of a healthy and fit 2013.