Catapult Chicago has announced seven new startups today that will be joining the 12,000 square foot collaborative space downtown. The office space is already home to many promising startups, including Vlinks Media, MentorMob, StyleSeek, 5 Degrees, and Tech.li. Companies vying for permanent space in the building must undergo a unique "peer selection" process, where incoming companies are reviewed and agreed upon by existing members of the community.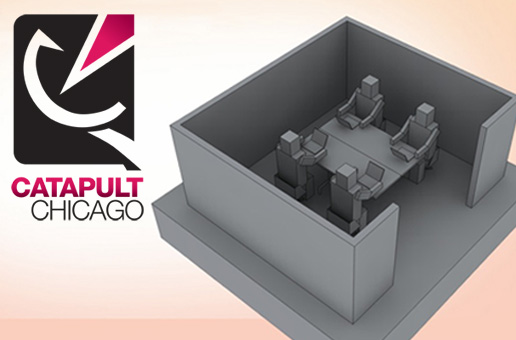 "We are thrilled about the companies that now call Catapult home. There are some incredible start-ups in Chicago and it was a difficult process," said Ryan Leavitt, president and co-founder of Catapult. "We interviewed over 100 companies and the caliber of the new start-ups speaks well of our peer selection model. These companies will add to the spirit at Catapult which, in many ways, acts as one collective start up with 15 different business lines."
Check out the list below from today's press release to learn more about the startups joining the River North community:
– Dabble — Dabble is a marketplace for $20, in-person classes. With a mission to make learning and exploring one's interests easy and fun, Dabble provides a low-commitment way for people to expand their horizons. Since its May 2011 launch in Chicago, Dabble has expanded to two additional markets: Denver and Milwaukee. Two more are on the horizon for a July launch.
– Buzz Referrals — Buzz Referrals empowers brands to drive new customer acquisition, increase current customer engagement, and build positive buzz through referral marketing promotions. The company's referral platform enables its clients to run engaging, on-site promotions that incentivize customers for specific actions through a suite of digital rewards.
– Shiftgig — Shiftgig is a professional networking site for the service industry. Through innovative vertical-specific features, Shiftgig provides connections between people and businesses in the restaurant, nightlife, hotel and hospitality industries for better employment and profitability. Shiftgig has hundreds of Chicago service industry employers and nearly 12,000 people since its January 2012 launch. Shiftgig has recently launched in NYC, LA, and Miami.
– Tempo — Tempo is the data layer for the measured world–a database service purpose built to store and analyze the massive streams of time-series data (e.g., measuring thermostat temperatures, network latencies, heart rates) that break traditional databases.
– Procured Health — Procured Health is a web-based application that helps hospitals discover and evaluate medical devices in order to drive much needed savings. A comparison engine for devices, clinicians and administrators are able to examine options based on analysis from peer hospitals as well as structured data from the FDA and suppliers, and the Procured workflow solution streamlines the evaluation process.
– Kula — Kula is a peer-to-peer, mobile marketplace app that helps users to Share, Buy, and Sell nearly anything based on location. With Kula, everyone is a business and the world is your storefront.
– BucketFeet — BucketFeet is Artist Designed Footwear. The company provides a manufacturing, distribution, e-commerce, and social media platform for artists to directly connect with consumers from around the world.