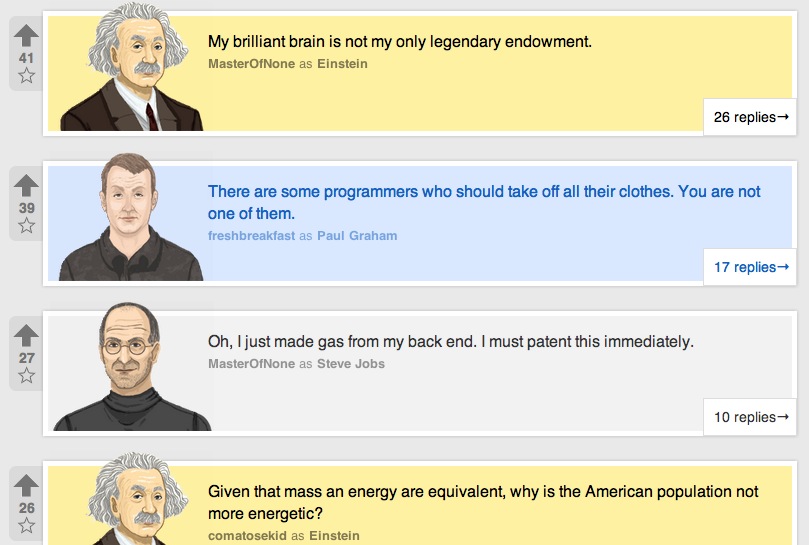 Globetrotting programmer Matthew Huebert has come up with the perfect web tool for anyone fascinated with magnetic fridge poetry. His latest project, called BrainTripping, is a website that allows users to explore the vocabularies of famous modern and historical figures, utilizing their documented words to create both bizarre and beautiful online conversations.
"BrainTripping is my latest labour of love," wrote Huebert. "It's a whimsical experiment which turns the world's textual culture into an open-ended game of storytelling, parody, personality, and poetry. After months of hilarity among friends, it's now ready for you to try." The programmer created the original concept for BrainTripping during Montreal's nodejs hackathon in December of last year.
Huebert has compiled public texts for each of BrainTripping subjects, effectively creating an online brain for figures like Stephen Colbert, Tupac Shakur, William Shakespeare, and Sigmund Freud, to name only a few. Once a user has selected the personality with which to guise themselves, the service allows them to begin crafting a quote, offering contextually appropriate suggestions as they go. Hubert admits that the experience is "kind of like improv… the words are partly random, and partly based on the brain's typical language patterns."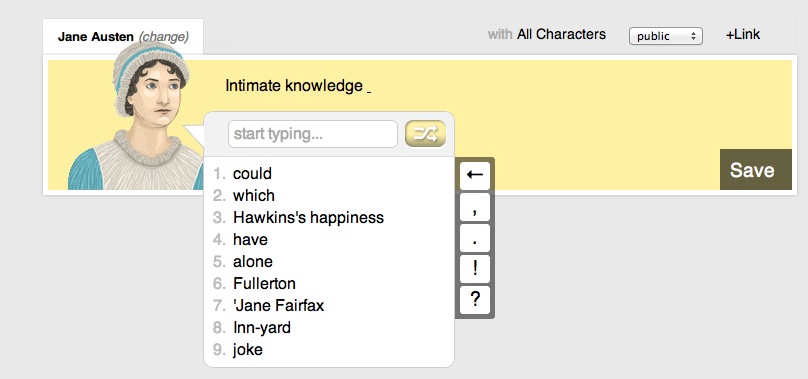 The service aims to pair human creativity with the constructed language persona to fashion previously unimaginable sentences, using the very words of the figures themselves. The whole design of the website is quite slick, even down to the process of crafting your new quote. BrainTripping will provide you with word suggestions as you type and also give you a number of random suggestions if you're stuck. If you aren't satisfied with the currently suggested phrases, getting a set of new prompts is as easy as hitting the tab key.
The website employs a community voting system, allowing the most creative and amusing brain trips to make their way to the top. Users can even reply to a brain trip as another persona, upping the opportunity to take the already bizarre creations to another level of absurdity.
"I've been amazed by how much meaning is locked up in these old texts," wrote Huebert. "At first, it seemed mostly like a gimmick that might be interesting for a few minutes at most, but I've been playing with this thing for months, and it just doesn't get old. It's as extensible as language itself."
Head on over and check out the current top-rated posts to see just how crazy Huebert's bizarre word-parsing experiment can get.