Although last year's big win in ecommerce was the Groupon IPO, companies like Lockerz and 8thbridge are proving that the next evolution in ecommerce isn't just all about flash sales. Social commerce is an estimated $9 billion dollar industry that expected to more than triple by 2015. Last week, another social commerce platform planted it's flag – this time in the beauty vertical. Xuba closed on a $5.4 million series A round led by Capricorn Investment Group to grow it's social beauty site Bloom.com.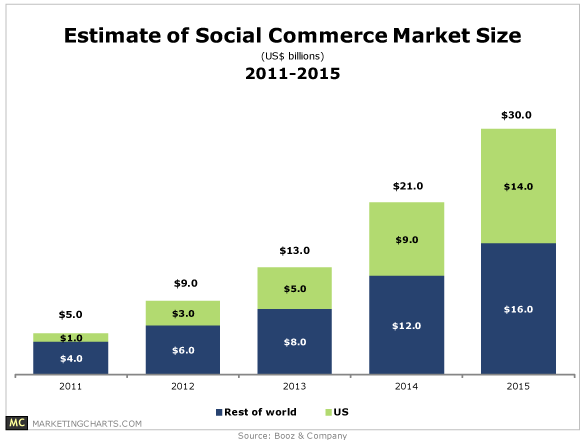 Bloom.com launched to the public in August 2011 and grew to 100,000 registered members by February 2012. Bloom.com is Xuba's first and only web property, and the entire round will be applied toward increasing the staff in order to build out content and features. According to Carrie Chambers, Social Beauty Editor at Bloom.com:
In 2012, we're taking social beauty to the next level, making the content you see relevant and contextual to each member. Bloom plans to put this additional funding towards supporting member and site growth in 2012, which will include expanded features and even more social functionality. Soon members will be able to customize their Beauty Bios with their favorite brands, photos and videos featuring their tried-and-true looks, tips and beauty trends.

Members will also be able to follow their Facebook friends and BeautyMatches (women who most closely match their age, skin type and other beauty traits) to see which products and beauty techniques work best for them.
Bloom.com also hopes to become a destination of beauty experts to share professional tips and advice.
We expect that the hundreds of thousands of women who earn a living through the beauty industry (stylists, cosmeticians, spa workers, beauty bloggers & many others) will find Bloom a useful place to share their expertise and ideas and gain new new followers and customers with the new features that will be on Bloom.com.
Currently, Bloom.com focuses on two core social features: beauty matches, which are customer profiles that are suggested to you based on your profile information (age, skin tone, eye color, hair texture, etc).  By connecting with women who have your similar beauty needs, the idea is that you'll trade tips and product recommendations. The second core social feature is an algorithm called Best4You that provides recommendations based on your preferences, profile, and social connections.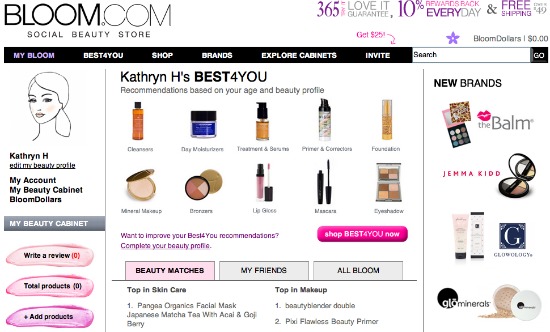 Nick Hudson, Bloom.com's Chief Marketing Officer notes:
Best4You is driven by over 50 data points on each member, 50 data points on each product and the ratings and reviews of beauty matches. The personalization gets smarter over time as the network gets larger and as it gathers more social feedback.
Founder and CEO Julie Mahloch of Xuba, Bloom.com's parent company, is no stranger to ecommerce success. The previously co-founded NetShops and Giftpoint.com.
Bloom.com joins beauty sites like Birchbox that are going after the beauty vertical, which has been growing in micro communities on YouTube and on personal beauty blogs for years. The retail and magazine fueled beauty industry is prime to be disrupted by social communities, and Bloom.com might just be the site to do it.