Banjo, an ambient location app, is committed to iterating based on user feedback. Judging from its most recent update, it's delivering on its promise. The impressive list of added features includes many user requests, including enhanced privacy controls and user interface improvements. The most interesting addition is Banjo's integration with LinkedIn.
Users are now able to share location-tagged updates to the professional social network through Banjo. According to Banjo's CEO Damien Patton, the integration with LinkedIn was a no brainer, especially considering the platform's recent growth.
We have added LinkedIn integration to our growing list of supported networks on Banjo because our loyal users were asking for it and looking at LinkedIn's Q1 numbers – it's no mystery why. LinkedIn has created a massive professional social network making this integration critical to ensure we continue our presence as a leader in location and social discovery. This commitment to quickly integrate new features based on user feedback has been one of the biggest drivers in our explosive growth.
LinkedIn is evolving from a resume database and professional social network to one of the largest aggregators of business-oriented social content on the web. This is evident with the company's announcement that it recently closed a deal to acquire SlideShare, a popular slideshow platform.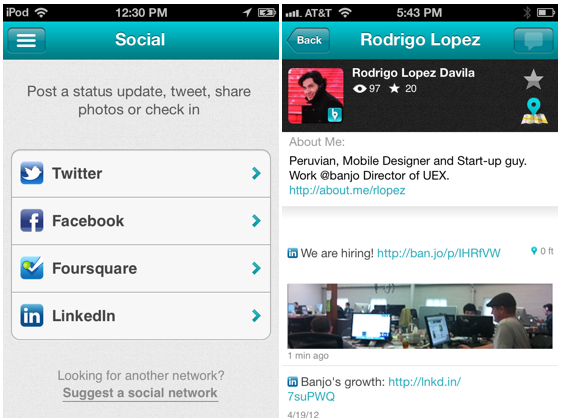 The decision to integrate with LinkedIn – as well as the rest of the social titans: Facebook, Twitter, and Foursquare – demonstrates that traditional business professionals are getting more comfortable sharing information with social apps that, just a few years ago, seemed of little value in the business world.
Traditional business users are now closing the gap between themselves and early adopters – who panned the hype around ambient location apps going into this year's SXSW conference. The use case for apps like Banjo are just being discovered. As its latest update proves, the iteration process is a joint effort between users and developers.