Asia is drooling at the chomp to recreate the startup magic that the United States has in San Francisco and New York.  Their answer is the following:
Startup Labs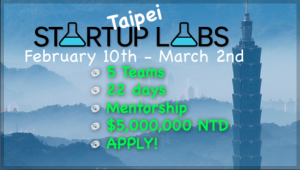 Startup Weekend has operated in over 130 cities and 35 countries.  They've been given the opportunity to expand their operations globally with a new incubation model.  Startup Labs is the result of the last 3 years' experience and the study of various incubators such as Y Combinator, 500startups and Tech Stars.  Startup Lab's is going to give 5 teams $30,000 dollars and mentorship over 22 days to achieve greatness!  This new model is meant to accelerate the production cycle and provide consistent mentorship in person.  Taiwan is going to be the first case study for the Startup Lab model through a partnership with Startup Weekend, Yushan Ventures and David Kuo.  It's going to be an exciting opportunity that will be expanded globally to every major city in the world!
AppWorks

AppWorks is an incubator and venture capital fund in Taiwan that is following in the steps of Y Combinator and 500startups.  The main difference between AppWorks and the aforementioned is that AppWorks doesn't provide seed capital.  AppWorks provides incubation over a 6 month period with a class of startups that would be provided mentorship and a space to cowork together.  At the end of the 6 month incubation, the startups would have a demo day where investors would view their progress and determine whether they're investable companies.  AppWorks retains the right to first crack at investment in exchange for their support and efforts during the incubation phase.
JFDI

Joyful Frog Digital Incubator ("JFDI") is an incubator in Singapore that provides $15,000 Singaporean dollars of seed capital for 100 days of incubation and mentoring.  JDFI is a fun play on words for an acronym that is known on the internetz in geek speak to mean "Just Fucking Do It."  It's the perfect connection to make for startups whose goal is to make things happen!  JFDI is part of the Techstars Network and the first in Asia.  We're all expecting great things from these companies in the future!