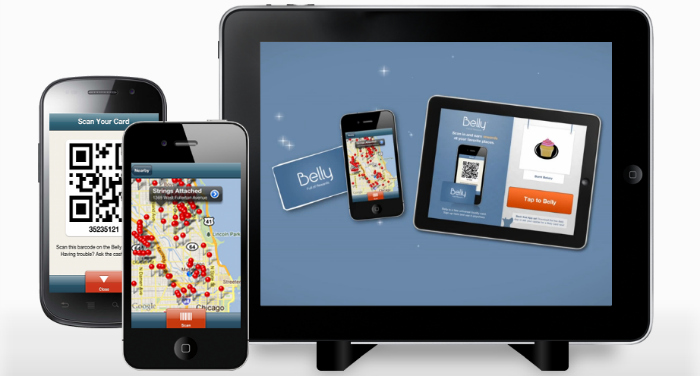 Apple boosted downloads of Belly recently thanks to the computing giant's decision to add Belly's customer loyalty card technology to the Passbook feature included in the iOS 6 release. Belly helps customers earn rewards for visiting their favorite merchants with their loyalty platform.
Belly is the perfect integration with Apple's Passbook because it solves a simple problem that fits into the overall mission of Passbook. With the iOS 6 release, Apple hopes to change the way that people carry tickets and discount cards. With the Belly integration, users with iOS 6 will be able to access all of their Belly loyalty cards from within Passbook.
To use Belly, customers can either carry a physical card to use at merchant locations, or scan their smartphone with the Belly smartphone app at Belly locations. Although many startups are attempting to solve the problem of carrying multiple loyalty cards by either condensing the cards into one app or allowing users to earn rewards by checking in, the real value of Belly is that it combines the two use cases.
Belly's iPhone app was downloaded 50,000 times since the iOS 6 release, marking a huge week for a relatively new company that was founded in Chicago in late 2011. The company has raised $12.9 million from some of the biggest names in venture capital, including Andreessen Horowitz and Lightbank. Early backers of Groupon, Lightbank co-founders Eric Lefkofsky and Brad Keywell, introduced Belly founder and CEO Logan LaHive to Jeff Jordan, a general partner at Andreessen Horowitz who would invest and become a Belly board member. All three were impressed with the elegance and simple solution that Belly presented.
While Belly had everything going for it before Apple chose to integrate Belly into Passbook, Apple's vote of confidence in the company is feather in the cap of LaHive's rapidly growing company. Belly joins established brands like Ticketmaster, Sephora, and Target in the first batch of companies that have integrated with Passbook.