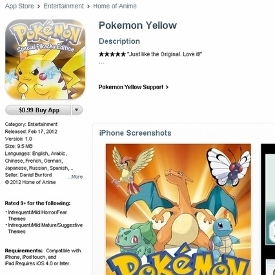 If a $0.99 version of a classic Pokemon game to the iOS seemed like a great deal to you, chances are you're already out a dollar.  Over the weekend Apple allowed an unknown developer, "House of Anime, to put two Pokemon games- one allegedly a port of Pokemon Yellow- into their strictly controlled App Store which the gaming community immediately called out as fakes.
Despite the fact that Nintendo made no announcement of releasing any Pokemon games over to the smartphone market (which would be incredibly newsworthy in and of itself), consumers eagerly purchased the games hoping that they were legitimate.
Unsurprisingly, the games were counterfeits and purchasers of Pokemon Yellow could not make it past the title screen without the app crashing.  Yet when the power of the Pokemon brand combined with the cheap price of the app, Pokemon Yellow skyrocketed the #2 spot on Apple's paid app chart- despite the fact that no one could actually play the game.  After receiving hundreds of complaints, Apple has finally pulled the two fake games from their app store.
The question at the end of this short-lived episode is how, exactly, the games passed Apple's mysterious and supposedly strict approval process to make it into the App Store.  While neither Apple nor Nintendo have officially commented on the matter, those who fell for the scam and purchased Pokemon Yellow can request a refund via iTunes.