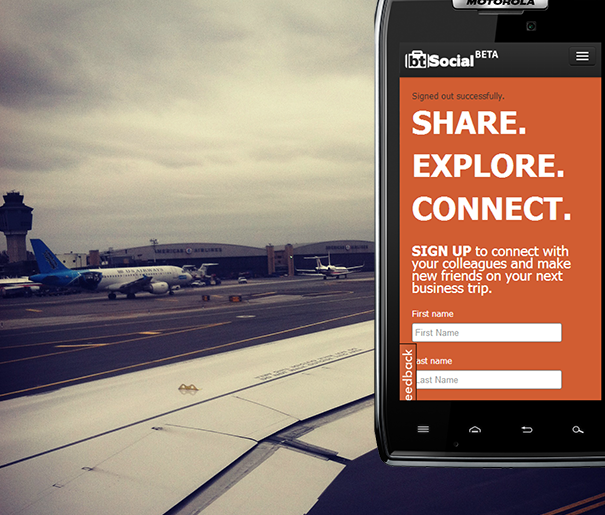 Don't just be social, BTSocial.
Chicago entrepreneur Tim Hines launched an app Tuesday for his two-year-old company, BTSocial, making it easier for business travelers everywhere to connect.
The app allows users to check-in to specific venues or entire cities and locate events in the area. It helps traveling professionals connect to other travelers for both social and networking purposes.
Users can also use a "Trips" feature to help them plan for their downtime, or a "Socials" feature to plan their own meet-ups and events.
As a business traveler himself, Hines saw an opportunity to solve a problem that many other travelers feel: A sense of disconnectedness, isolation and lost time that comes from constantly being on the move.
"I came up with the idea from personal experience," Hines said. "As a business professional in my twenties, I enjoy the company of others and meeting new people while traveling."
"When I was by myself, I was by the hotel bar or chilling at the airport alone and I thought: Wouldn't it be great if I had a tool to connect to other travelers like me just to hang out or network to expand business opportunities."
And this is just what he strove to create – not just a social network, but a tool.
While the BTSocial company was launched two years ago, it was more focused on collaborating news for business travelers. Hines said he wanted to create a website, a social network and an events platform for business travelers, but was concerned about the inundation of social media filling the market.
This is when he had the idea of a social tool. "We thought to ourselves: What can we build that our users will want to open as soon as they land?" he said, recognizing that he himself was quick to open his phone and check-in to a location at landing.
"Checking-in is our way of raising your hand and saying 'Hi. I'm here and I'd like to network,'" said Hines in a prepared statement. "Check-ins are what truly drive the social experience of the app."
Hines said there are few other tools for travelers to use such as TripIt, but these are largely for trip organizing and itinerary planning.
Furthermore, Hines said BTSocial focuses on "fostering the in-person networking, not just the online."
"Users can actually meet in person and meet people they don't already know, whereas with other apps it's only the people you know," he said.
Right now, the app is open to anyone and has a few hundred users. As users accumulate, Hines said he will start adding more stringent security layers through requiring certain circles of connection much like Facebook or LinkedIn does.
In the next month, Hines will be forming several partnerships with traveling suppliers such as car rental companies, hotel chains and airliners to partner the app with supplier loyalty programs. He expects this to bring a huge wave of users, and "at some point" to hit the million mark.
In addition to traveling suppliers, Hines has connected to a number of travel organizations such as the Global Business Travel Association and the Association of Corporate Travel Executives (ACTE) to learn more about the traveling industry. He is attending the ACTE Global Education Conference this weekend to showcase the BTSocial app.
Hines also sees potential for the app to grow its user base not only nationally, but internationally. With the fast rate of globalization, more professionals have to travel more frequently and at farther distances, making the app more relevant.
"I'm excited to see the capabilities of not only the app, but the network expanding," Hines said. In the next few months, users can expect not only new capabilities, but a vast increase in users and sponsors.  Hines said he is looking to grow and change the business to meet its capabilities, and reach out to partner with larger companies.
"I'm really passionate about helping out the road wary business traveler meet friends and make new contacts on the road," Hines said.
"I got sick of having beer and pizza alone. Why not get out of the hotel, explore the city I'm in, and find someone fun to do it with whether it be male or female, younger or older. There's got to be other travelers like me looking to have fun."
But Hines also said that the app is not only to make experiences more fun or more social. It is to help users be more efficient and get the most out of their time — both as a professional and as a traveler.
Visit app.btsocial.com for information or to access the app.