It's hard to believe but it's already a year since the launch of the iPad 2. And with its launch anniversary, comes many rumors and speculations on what Apple has in store for its tablet golden child third edition.
Launch Date:
As always, launch date rumors have run rampent with the laconic Jim Dalrymple's "Yep" reporting the new tablet will be unveiled March 7th. If you are more into cabal or other tricks with numbers you should check Joshua Topolsky's research indicating a February 29th launch date.
[youtube id="66j5jFEgWzU" width="600″ height="350″]
Features:
The most exciting rumors are of course those that speculate on how Apple will differentiate the iPad 3 from its predecessors. Something like a new processor? Better cameras? A better screen?
According to rumors all those areas and more will be refreshed with the new iPad, in order to give users a reason to upgrade.
On the processor side we can be quite sure that the new tablet will have an Apple A6 chip. Is now tradition for Apple to insert its new processor inside the iPad and later they do the same with the new iPhone. What we should expect from this A6 chip? Probably we are going to see a quad-core chip that will allow for even better processing power and stunning graphic performances.
This big processor is needed especially in light of the big rumored Retina Display. A mind-blowing 2,048-by-1, 536-pixel display is what we should expect to see in less than a month. That's huge: it will be the highest density display on the market regarding tablets and will also be much more than many laptop out there.
Now, in order to sustain all those specs, they will need a super battery. That the battery needs to remain on the same levels as it's now (roughly 10 hours with average usage), but let's hope they can manage to improve it a bit.
Moving around the device, we are going to see also refreshed cameras, both front and back should sport a higher resolution sensor compared to what is onboard now. A much awaited refresh, considering how bad those cameras are at the moment.
The form factor should stay the same as the iPad 2 also if there's the possibility to have a slightly thicker device. Why thicker? Because something new is coming under the hood of the iPad 3.
Connectivity:
The new iPad is rumored to come equipped with an LTE chip in order to get faster data.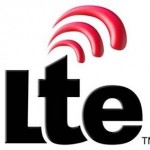 This is a huge step for the iPad and if they are going to really implement it, it means that engineers at Apple have figured out how to release an LTE capable device with a more than decent battery life. The biggest problem about this technology is that as of now it simply drain your battery in few hours. This is not something we re going to see happen on an Apple device.
Anyway, linked to the LTE there is another problem. This technology is not universal. Different carriers in different countries operate on different radio frequencies. This makes impossible to create a unique device to rule all the networks.
According to the WSJ, the iPad 3 will support at launch both AT&T and Verizon's LTE, leaving out Sprint. No mention about what could happen in Europe where LTE is present in several countries.
This leaves us with two possible scenarios for the launch. Apple could launch two different devices: one LTE equipped for AT&T and Verizon and one with a traditional 3G radio, plus of course the Wi-Fi only version. The second scenario is a single universal device equipped with both LTE and 3G radio chip allowing it to work worldwide out of the box, dynamically adapting to the compatible networks.
I don't think Apple can provide at launch a device capable of working with LTE worldwide because there are simply too many frequencies to master. It's a challenge too big even for Apple.
Apps:
Why? Because every new iPad is always equipped with a specific set of Apps that only works on the newer device, a way to incentive people to switch. iPad 1 had the iWork suite, iPad 2 had iMovie, GarageBand and Photo Booth, what about the iPad 3?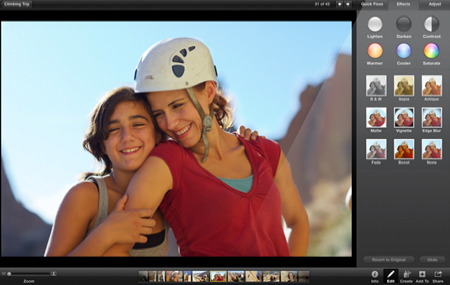 Well, I think there are two possibilities: iPhoto or Aperture (or both). This could be a way to complete the iLife suite on the iPad in case of iPhoto (and a good tool for basic users), while it can be a way to give to pro-users powerful tools to work with their photos.
It makes sense now with a retina display to go for some photographic applications. Combining those Apps with the possibility to import pictures from the Camera Connection Kit (not resized) and you have a photographic studio on the go.
A fascinating future is in front of us in term of innovation in the mobile space. Let's see what will happen. There is less than a month to wait.
—————