There are two primary methods to monetize YouTube content. The most well known method is monetizing your own channel by way of ads. But another effective way of generating revenue from YouTube is through audio/visual licensing. AdRev's ContentID is focused on helping independent artists and labels monetize their owned music.
YouTube states that 100 hours of video content is uploaded every minute. Of this newly uploaded content, there are hours upon hours of video content that use unlicensed music. Every time one of these videos generates ad revenue, it's infringing rights and making money off of other people's work. ContentID wants to help independent artists and labels monetize their own work by finding these unlicensed uses of their music and capturing the ad revenue. When ContentID matches music on a YouTube video with its database, it doesn't remove the infringing music, but rather notifies the user, claims the music, and starts to collect ad revenue.
ContentID finds infringing content with the combination of backend technology and a human content ID team. The ContentID system has a  simple SoundCloud, FTP, or YouTube owned channel integration that allows artists to upload their entire SoundCloud catalogue to their system.  Its system also offers a direct relationship with YouTube, which is something that is difficult for many smaller artists to secure.
ContentID.com offers a 100% revenue share on videos owned and uploaded by the copyright holders themselves, and an 80% revenue share on unauthorized 3rd party uploads. Giving these independent artists and labels the ability to monetize their music. AdRev is on pace to pay out $4 million in YouTube related earnings in 2013.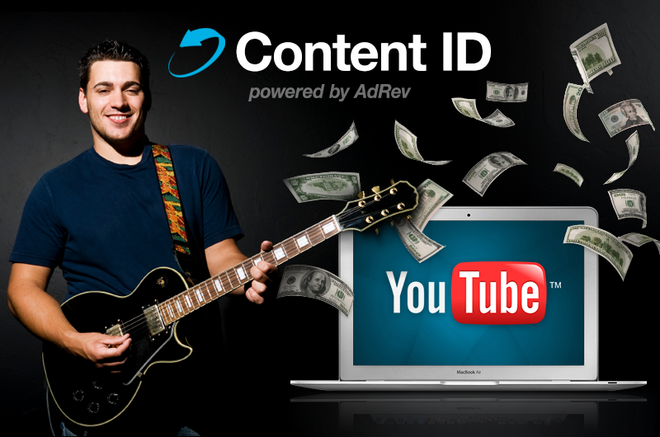 ContentID's parent company, AdRev is a YouTube Certified company focused on music rights administration and generating over 1.1 billion video views per month. AdRev itself is a division of AudioMicro, Inc (400,000 production music and sound effect files). AudioMicro, Inc. has raised a total $1.25 million in venture capital from DFJ Frontier and Fotolia LLC and  has been cash flow positive and profitable since the end of 2011.
It's no secret that the music industry has taken a major hit in the digital age. While it might be easier for smaller artists to sell their own content through the Internet than it was generations ago, it's still difficult to make a living off of your music. But licensing your music, music that you might not have known was being used, will help small artists and labels rightfully monetize their work.
"Protecting your copyrights in any manner possible is critical to the long term survival and growth of any creative individual or company. ContentID.com by AdRev allows individuals with any size music repertoire access to a rapidly expanding source of revenue – monetization of YouTube. We're proud to be a leader in this increasingly important facet of the music industry," CEO Ryan Born said.
While ContentID might never become recognized like the consumer facing  Shazam, it plays a very important role in music's digital evolution. Video is booming and music is an important piece to video creation. By offering this end-to-end platform for independent artists and labels, AdRev and ContentID are solving a problem many artists have but had no idea how to fix.