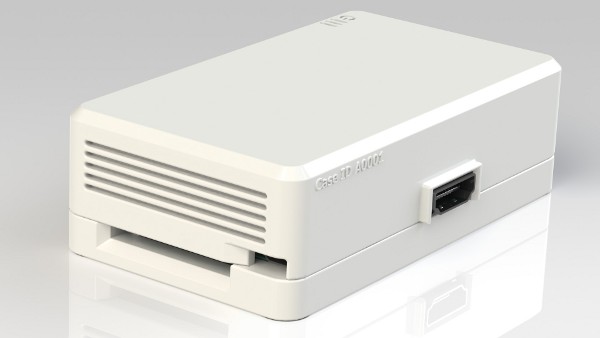 A sleek, 3-D printed case for the minuscule Raspberry Pi computer is now available for pre-order, according to UK-based manufacturer ModMyPi. The product could signal the start of a cottage industry of hardware and software to supply the pocket-sized Raspberry Pi computer, which will be available for between $25 and $35.
The tiny Raspberry Pi was a smash hit in February, selling out pre-orders for the $35 Model B within hours. The Model B ships with an ARM11 processor and a Videocore 4 GPU – processing power and graphics at about the level of a Pentium 2 chip and a first-generation XBox, according to ModMyPi's estimation. It's likely to be of particular interest to educators, who could use it to teach computer science basics, and modders, who see uses for the device in multi-screen computing and Arduino-like homebrew projects.
"As a bare circuit board, the Raspberry Pi is a sensitive piece of electronic equipment and can be exposed to a variety of desktop hazards," reads ModMyPi's FAQ page. "Knocks, drops, dust and coffee spills (we've all done it), can easily be prevented with a high quality ModMyPi case."
If it seems strange, at first blush, to spend half the cost of PC on a case, remember the deformation of cost associated with a computer that costs a diminutive $25-$35.
ModMyPi – the site's masthead is a crushed raspberry, drawn in the style of the Raspberry Pi logo – is donating five percent of each sale to the Raspberry Pi Foundation, the charitable arm of the Raspberry Pi project.
Raspberry Pi accessories could become a lucrative market, especially for entry-level modders who are less determined to create every solution on their own. At the same time, the device is appealing to the free and open source community – at least one enthusiast has already created 3-D printable designs for another Raspberry Pi case, which he plans to make available for fabrication through Shapeways.
ModMyPi also sells a set-up kit for the tiny computer, which includes a Debian-bootable SD card, a wireless keyboard and mouse, a WiFi dongle and an HDMI cable.