It's safe to say that, aside from some more basic changes, childcare equipment like strollers and playpens haven't seen much innovation over the years. Advancements in safety have largely been a priority of companies making these products, but has anyone ever stopped to think about what a few high tech additions could do for the stroller market? You might find this an absurd proposition, but one Pittsburgh startup has just raised $20 million to help them keep doing just that.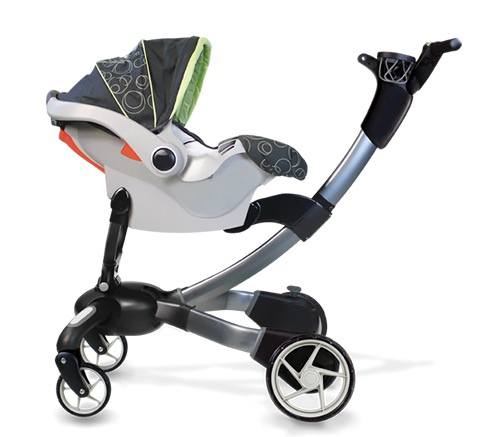 4moms, the company behind an array of high tech baby products, has just finished a round of fundraising led by Bain Capital Ventures to bring their unique brand of futuristic childcare gadgets worldwide. The startup was founded in 2005 by CEO Robert Daley and CTO Henry Thorne, and since then its products have reached more than 500 retailers throughout the US. According to today's announcement, the $20 million will go to ramping up product development and expanding the 4moms brand into new markets across the globe.
The Pennsylvania company is responsible for some truly advanced baby products like the mamaRoo, an electronic baby rocker that emulates a variety of parental rocking motions, and a self-folding stroller called the Origami, which features an LCD dashboard and a built-in USB charger. 4mom's upcoming product is an easy-to-setup playpen called Breeze, and is expected to launch in September. Both the Orgiami and mamaRoo have been featured on NBC's Today Show and The Ellen DeGeneres Show during a Mother's Day special.
"Today's parents have more information available to them than ever before, so they demand better options when it comes to choosing baby gear," Daley said in a press release today. "We use advance robotic technology to deliver differentiated products to meet the needs of today's new parents. We provide our customers with the most elegantly designed, high-quality products available to make daily lives of parents easier."
With the recent investment, 4moms will continue to cater to a whole new generation of parents who have begun to expect as much tech innovation in their childcare products as they do from the next Apple launch. Swing by the 4moms website to find out more about the future of childrearing.