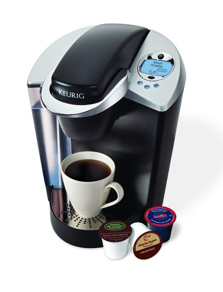 ybuy, a Beverly Hills based startup, began as a peer-to-peer based service in early September 2011. After receiving feedback from customers on their minimum viable product, the ybuy team recognized an overwhelming demand from customers who wanted the ability to try a product before they purchased it online. The ybuy team made a pivot in strategy and launched their new ybuy platform today in hopes of solving that problem.
For $24.95 a month ybuy will send you a new product of your choice to try in your home for a full 30 days. At the end of the 30 days you have two options: send it back to ybuy or deduct $24.95 from the purchase price of the product.
Essentially ybuy allows you to "try it before you buy it", or more appropriately "ybuy it before you try it". Say you've been hearing a lot about the Keurig Coffee Maker, but you weren't willing to dish out $150 on a coffee maker. With ybuy you can try the Keurig Coffee Maker in your home for a full 30 days. If you like it, simply pay the additional $125 and keep on using your new coffee maker; if not return the product to ybuy and try something new. The best part about this entire process: shipping is free.
ybuy does "extensive research" to make sure the products you are receiving are of the highest quality. They assure buyers that their price is the best and even offer to take the product back if you find it cheaper somewhere else. If you don't want to try a product during a specific month you can opt-out and receive a $24.95 credit to your account towards future purchases.
The ybuy service offers a wide variety of high quality products ranging from a DeLonghi Gelato Maker to an iPad 2. The site offers an intuitive user experience coupled with a simplistic design. My only concern with ybuy is the fact that the user's credit card will be billed every month, regardless of whether or not they decide to try something for the next 30 days. The idea is that over time you will build credit if you opt-out of receiving a product and eventually use that money towards your purchase of another product; however, this might scare some potential users away from the service.
ybuy is now open in public beta.
Originally Posted at: TruthfulTech.com