As the debate over online privacy rages in courts, legislatures and public opinion, many consumers want to know: Who's sharing their online data?
PrivacyScore, a project of PrivacyChoice, rates popular web sites on a rubric based on their respect for user privacy–building on momentum from recent, high profile incidents including Google's controversial terms of service consolidation and the revelation that journaling service Path was collecting address book contacts with no opt-out option.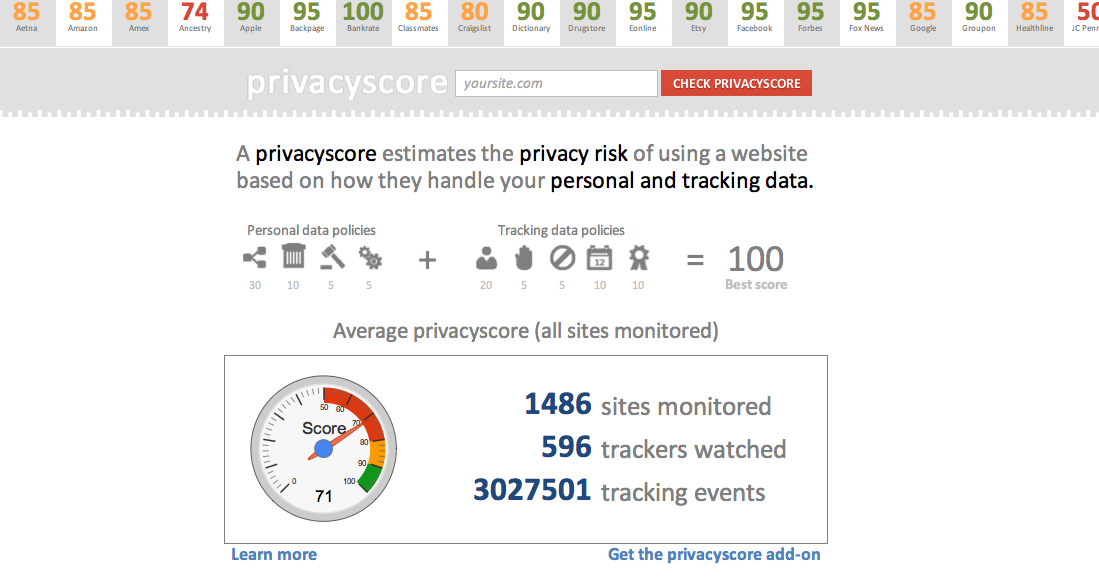 "Our company's mission is to make privacy easier," wrote JimBrock, founder and former Yahoo! vice president of communications and consumer services, in an email message. "When we started to focus on how to make privacy disclosure simple for web users, our focus groups told us that there's nothing simpler to understand than a number. This led us to develop an algorithm to take a set of complex policy and qualification factors and boil it down to the essence of how this site compares on privacy to the others."
In the system, a site's 0-100 score is based on its data policies, like whether it lets users know when the government has requested their data, and tracking data treatment, such as whether it provides an opt-out option.
That data is presented in a tidy web interface with social sharing tools. Tooltips explain scoring and categories, and a browseradd-on can present PrivacyScores while surfing.
Some well-known sites scored well, others surprisingly poorly. Video-hosting giant YouTube earned a modest 90, while streaming radio service Pandora was panned with a 45, docked for sharing personal data with unaffiliated companies, retaining personal data, and other transgressions. Public pressure can spur companies to change policy: In the wake of the contact information fracas, Path apologized and deleted all covertly-uploaded information from its servers.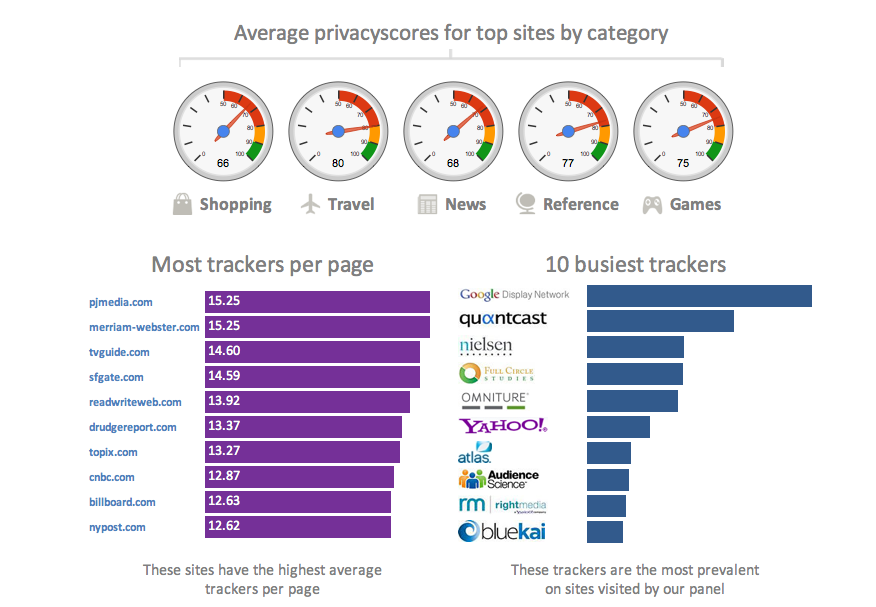 "This transparency not only allows people to make smarter decisions about their own data, it also will spur more protective privacy practices by sites and tracking companies, which is long overdue," Brock told the New York Times, which received a score of 71.
Tech.li has not yet been been scored.
PrivacyChoice offers privacy tools to publishers and users. At press time, the PrivacyScore site was monitoring 1461 sites and 596 trackers.