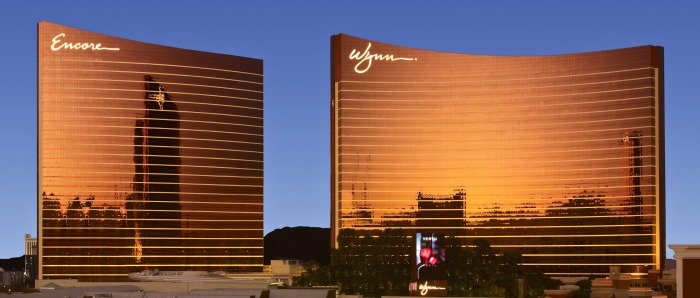 This Christmas was the first holiday that I spent outside of the bone-chilling Northeast or the snowy Rocky Mountains. Instead, I flew to the desert to spend the long weekend with my family in Las Vegas. I decided to take a break (for once) from reading about startups and tech entrepreneurs, and I tried to convince myself to think about lighter topics like booze, gambling, Santa, and cookies.
My husband and I took a break from wandering around Las Vegas Boulevard and jumped into a cab to explore a few off-the-strip hot spots. Inside the cab, an informercial for Wynn resorts aimed to entice tourists looped as a smooth voice cooed about the luxuries awaiting at the Wynn and Encore hotels.
"Is that Steve Wynn's voice?" I asked the cab driver. "He sounds like Walt Disney welcoming us to his magic kingdom."
"Yeah, he's a slimy used car salesman," the cabbie replied. "But you have to give him credit. He basically built modern Las Vegas."
We spent the rest of our drive getting a short history of the development of Las Vegas, from Steve Wynn's takeover of the Golden Nugget to the completion of Wynn's Encore hotel in 2008. "But he's blind now, so he can't even enjoy everything that he built," said the cabbie, with a cold matter-of-factness. Steve Wynn was the man who ushered in the megaresort era by building the Mirage, Treasure Island, the Bellagio, and more while building his fortune in the process.
His story reminded me of another Steve that continued to build a modern empire during health decline: Steve Jobs. The more I read about Steve Wynn during downtimes between holiday activities, the more I realized that the two Steves have similar lessons to teach younger entrepreneurs.
Many of the world's best business leaders are ignored by the newest tech savvy generation of entrepreneurs, who would rather worship Steve Jobs and other geek heros like David Heinemeier Hansson of 37Signals or Jack Dorsey of Square and Twitter. Yet there is so much that tech entrepreneurs can learn from Steve Wynn's journey too.
Here are a few of the lessons that entrepreneurs can learn from Steve Wynn:
Build a platform, not a single product.
Wynn didn't just set out to build hotels after he transformed the Golden Nugget. Instead, he created a number of resort casino properties with space that he could lease to national retailers and restauranteurs. He built the real life equivalent of a software platform company. He could have simply built hotels, which would be more akin to building a single product feature company. By building a place where people could drink, party, gamble, shop, dine, sleep, and see a show all under one roof, he kept the activity in his controlled business ecosystem.
Keep enough cash on hand to ride out economic downturns.
Wynn's empire continued to stand strong during one of the worst economic downturns in Las Vegas history. While construction stopped on many projects located at the north end of the strip, Wynn was not worried about the economic health of his new resort Encore because his empire had enough cash to float expenses during the recession. He planned for the dip in business ahead of time. Startups should plan for similar circumstances.
Pay attention to the details.
Wynn is a notorious perfectionist who is interested in beauty and design. Although his aesthetic is luxurious as opposed to Steve Job's restrained aesthetic, both Wynn and Jobs set their companies apart from the competition by obsessing over design details. Consumers are demanding beautiful products now more than ever because beautiful products signal quality products.
Zig where others zag.
Great entrepreneurs buck the trends. By taking on more risk than others are willing to, the best entrepreneurs will either crash and burn or reach the moon. They know that if you don't set goals higher than everyone else's, you'll never be better than everyone else. Wynn's Mirage project was viewed as insane at the time, but its success sparked the megaresort building boom on the strip. Tech entrepreneurs can similarly achieve greatness by bucking the trends. Is everyone building a social local mobile app? Build enterprise software. Is everyone building enterprise software? Move onto something else. If everyone else is already doing something similar to you, it's time to move on.
Make the mundane magical.
In 1993, Wynn oversaw the implosion of the Dunes hotel and turned the mundane construction project into a televised event, complete with fireworks. Showmanship is an important skill for entrepreneurs to cultivate. Creating newsworthy events out of routine business activities can elevate your startup in the press and get potential new customers to discover your brand.
Don't eat your own dog food.
In the startup scene, most teams are encouraged to become superusers of the products that they build. This is also called "eating your own dog food". Wynn counters this startup dogma by not becoming his own customer. His father has a terrible gambling problem, and that shaped his personal distaste for casino games. Wynn would rather create experiences in his resorts rather than take part in them himself. Startup teams should be encouraged to use their competitors' products, as well a variety of other innovative consumer products. Entrepreneurs who get too wrapped up in their own products risk innovating in a vacuum. This can have disastrous consequences. Become a superuser of other digital products and services to generate new ideas and user experience scenarios for your products.
While the work of Steve Jobs stands up to the work of the greatest business minds of the modern era, tech entrepreneurs need to look outside of the echo chamber of the startup scene to learn valuable business lessons. Steve Wynn's dedication to showmanship, creating magical experiences, and empire building can teach new entrepreneurs valuable lessons about becoming a legendary business mind.