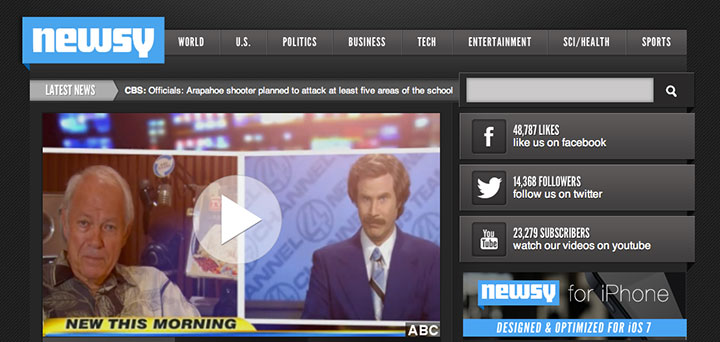 The $35 million acquisition of Missouri internet-video startup Newsy is making headlines in the St. Louis investment and startup community.  For those who haven't heard, Newsy, started in 2008, announced its acquisition by the E.W. Scripps Co. this week.
Among Newsy's early investors were several members of the Arch Angels, St. Louis's technology angel investment group. Members of Arch Angels individually choose which of the group's investments they would like to participate in.
Now that Newsy has been acquired, what will those members think who chose not to invest? Missing out on a good deal is not an uncommon occurrence, but Newsy was different for the Arch Angels, as it was their earliest internet technology investment made 5 years earlier. According to its public record of investments, the group's portfolio has been historically biotech.
The St. Louis startup landscape has dramatically changed in the last few years. The region has come together to support new startup activity and foster community among startup participants. Most home-grown entrepreneurs will report that there has never been more internet startup activity in St. Louis than there is today.
The St. Louis early stage investment has changed as well, feeding into and benefiting from the changing startup landscape. There are multiple new St. Louis digital technology investment funds focused on very early stage investments with a focus on internet technology companies. Even the Arch Angels have shifted gears, with six new internet technology investments made by Arch Angels members in the last two years.
St. Louis has long been a bio-investment hub. There is a long, established track record of biotech investment in the region, backed by hundreds of millions of dollars under management of local biotech investment funds.
At a recent IT conference, legendary venture capitalist John Doerr was asked what he thought about St. Louis's potential as a digital startup hub for the nation. Mr. Doerr was polite and said how exciting St. Louis's future was as a place for new biotechnology investment and advancements. The effect was sobering for cheerleaders of St. Louis digital.
Even so, maybe the appetite for digital deals among investors in St. Louis will perk up at this news. In any case, maybe CEO Jim Spencer will be making some internet investments of his own.