This past week Twitter reached a new milestone as it crossed 532 million registered members – just in time to celebrate its sixth birthday. Since co-founder Jack Dorsey sent his first tweet, the social apps has changed the world through 140 characters.
Here are 10 ways Twitter has been used for social good.
1. Twitter followers flood Justin Bieber's Charity: Water page to donate money as an 18th birthday gift to the performer:  Justin Bieber leveraged his social following to get teenage girls to shower a charity with money rather than shower him with gifts and fanmail for this 18th birthday. To date, Bieber has raised $15,925.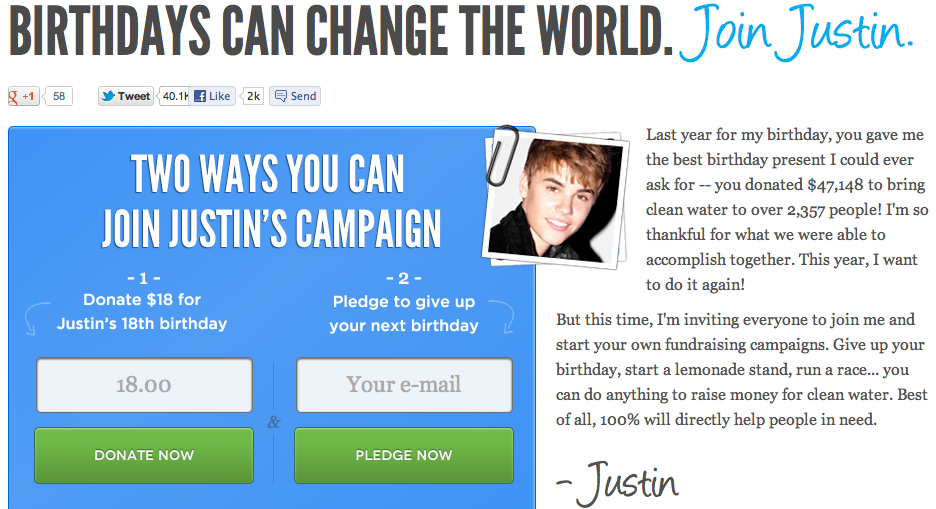 2. TwitChange leverages celebrity tweeters for Haiti campaign: TwitChange was launched as a way to raise money for Haiti by using celebrity tweeters to ask for donations. Since the program's first successful campaign, TwitChange has expanded to include other awareness initiatives.
3. Occupy Wall Street uses twitter to organize and broadcast coverage ignored by the mainstream media: Following the #OWS and #occupywallstreet hashtags on Twitter was the best way to keep track of the movement last fall as it was unfolding. Although the mainstream media tried to minimize the magnitude of OWS, Twitter revealed the truth about the movement in each city.
4. Citizen reporting on twitter changes the balance of power in global politics: The Middle East experienced tremendous changes in 2011, and Twitter was there for people to turn to for news and opinion during the protests. Access to a free and open Internet matters to citizen journalists who fight against censorship now more than ever.
5. A man in need of a kidney found a donor: Two long lost buddies reconnected through Twitter when one of them tweeted that he was in need of a kidney transplant. Although the two men hadn't spoken in years, Scott Pakudaitis offered a healthy kidney to Chris Strouth and the two men tweeted their transplant saga from the hospital.

6. Volunteers in England organize post-riot cleanup over twitter: The London riots left neighborhoods destroyed, and volunteers used Twitter to organize cleanup dates and locations.
7. Internet crusaders stop SOPA: The tech community ceased fighting each other for a few weeks to unite against a bill that would potentially change content on the internet as we know it. People tweeted in protest, and some replaced their Twitter avatars with a black and white "STOP SOPA" proclamation. The bill was shot down, and geeks resumed their bootstrapping vs. VC funding debate.
8. Pet lovers connect shelter pets with adoptive families: AdoptaPet.com added a Twitter button to each pet profile so that you can publicize your favorites when you can't adopt them yourself.
9. The twitter community shows an outpouring of support for Japanese earthquake victims: When Japan was hit with a major earthquake and tsunami in March 2011, an outpouring of information and fundraising efforts helped the Japanese relief effort become one of the most successful campaigns ever on Twitter.
10. A fake twitter account claiming to be BP PR sheds new light on an environmental crisis: In response to BP's epically tragic oil spill in the Gulf of Mexico in May 2010, a fake Twitter account claiming to be BP PR started responding to the crisis. The @BPGlobalPR account grew to have over 157,000 followers. The people behind the account did more than make followers laugh at BP's inept crisis communication team. They also leveraged their followers to encourage them to take political action against BP.
Twitter can be a time suck, or it can be used to change the world. What you do with your tweets is up to you.