Remember when everyone criticized Twitter for not having a revenue model? Twitter thought it would have the last laugh when it launched Promoted Tweets in April 2010. According to estimates from eMarketer, Twitter has generated $139.5 million in ad sales in 2011.
Although its revenue model has mostly catered to big corporate spenders – such as Walgreens, Pepsi, and Beachbody – Twitter is starting to open its ad platform to small businesses – currently limited to American Express partners. Now marketers at companies big and small need to know how to manage Twitter ad accounts.
Here are a few hacks that will help companies leverage Twitter ads without blowing your marketing budget.
Evaluate Where Your Brand Fits into the Interest Graph
Unlike Facebook, which relies on the friend graph, Twitter's ad model focuses on the Interest Graph – meaning that it relies what you like, read, and so on. It also relies on auctions within the Interest Graph, which means that you might compete with mega corporations for ads related to fitness and music – two of the biggest interests on Twitter. Spend some time determining where your brand lies at the intersection of interests to effectively plan your budget, and then bid on the interest with less competition.
Promoted Tweets Are the Biggest Bang for Your Buck
There are three types of Twitter ads: Promoted Accounts, Promoted Tweets, and Promoted Trends. Marketers can buy Promoted Tweets, which will appear at the top of your followers' Timelines. Non-followers will notice the tweet after searching for a keyword or hashtag. Promoted Tweets can help boost conversions for a campaign with a strong call to action, while Promoted Accounts and Promoted Trends aid in brand discovery. Although big businesses have access to all three, small businesses must wait to take advantage of Promoted Trends.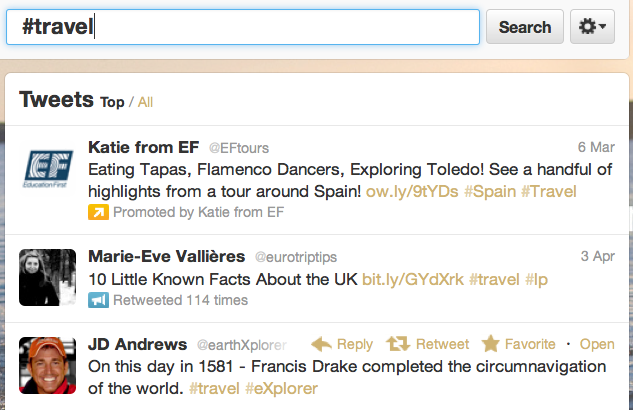 Create Easily Sharable Content To Save Money
Impressions are unlimited and free with Twitter ads, but marketers pay for engagement. There are four types of engagements that Twitter charges for: a clickthrough, a retweet from the original tweet, a favorite, or a reply. When a user engages in more than one way with the same tweet, the marketer is only charged for one engagement.
The catch being that the retweets of the original tweet by other users is free. By creating easily sharable tweets, you'll encourage viral interaction with your tweets that you won't have to pay for. Create a call-to-action with a sense of urgency to drive viral retweets by offering a flash sale only if you get 100 retweets, and watch your dedicated followers do your marketing for you.
Grab Attention By Bidding on an Event Hashtag
Marketers can jump into any conversation on Twitter, but to increase impressions, try bidding on a hashtag for a popular live event – such as #marchmadness or the #oscars. Think of it as buying a Super Bowl ad without spending millions of dollars. You have a captive audience, so make sure your Promoted Tweet has a strong message.
Twitter initially launched its new self-serve advertising platform to 10,000 small businesses in partnership with American Express. If you weren't one of the luck 10,000, there are still a few engagement tricks that you can put to use in the meantime.
– Add media to your tweets. Studies show that tweets with images and videos have higher engagement rates.
– Organic tweets lose their relevance in two to three days. Respin your message, or move on.
– Hijack hashtags, but don't overstay your welcome. You can participate in a hashtag conversation and even slip in a few links, but keep it relevant and don't be a spammer.
Twitter is biting at the heels of Facebook and Google in terms of ad models. When the platform is open for all businesses, both big and small, I predict that a significant amount of ad spend will be reallocated to Twitter campaigns. Now is the time for you to start working on your advertising strategies.