Over the last few years, location-based apps like Foursquare have given users more reasons to check-in at their favorite bars and restaurants. Not only can you find menus, hours, and tips on merchant pages, you can also save money by discovering an American Express deal or enjoy a drink on the house as mayor of the venue. Although most restaurants are already using these features to draw in customers, some are using location-based marketing to keep them coming back for more.
Restaurants are increasingly contacting users who check-in via Twitter and Facebook to ask them how their experience was. This proactive customer service can be time consuming, leading many restauranteurs to hire digital marketing companies like Able Social – which caters specifically to the food and wine industry – to interact with their social meda savvy customers.
According to Jessie Bronfman, content manager at Able Social, location-based tools now play an integral role in its digital marketing strategy:
Using Foursquare, we see who has checked into each restaurant and thank them via Twitter (when that handle is provided). Often, people reply and tweet how they enjoyed their brunch/lunch/dinner or a specific dish. Plus, we create Foursquare promotions where customers who check in at certain times receive exclusive deals.
The company manages the social media accounts for a popular Upper West Side New York brunch favorite called Good Enough To Eat. Sundays are an extremely busy day for the restaurant thanks to the popularity of its strong bacon garnished bloody marys. Monday is an even busier day for Able Social, as the team contacts everyone who checked-in the day before and asks them how their experience was.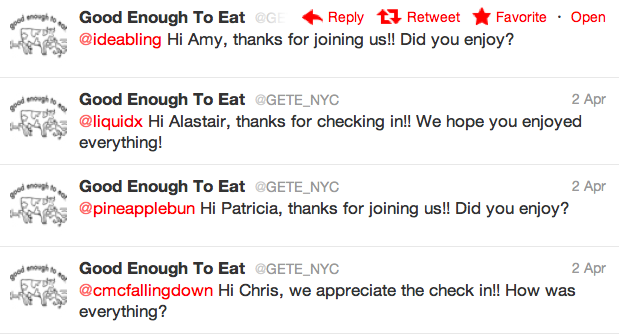 In addition to getting customer feedback, Able Social also adds Google Maps to each of its clients' Facebook Pages so that customers know how to get their hands on a new favorite wine, for example.
For one of our Champagne clients we have a "where to drink" and "where to buy map" providing all relevant locations.
With the growth of mobile device adoption in the last year, now is the perfect time for restaurants to get onboard with these new marketing strategies. Fifty-two percent of travelers said they use their mobile devices to research restaurants, according to a survey by TripAdvisor. Restaurant industry insider Jennifer Hancox admitted that even with the recent advances in location-based apps and the growth of mobile device ownership, some restaurants are slow to adopt the social technologies that could increase the number of customers coming through their doors.
Hancox believes the restaurants that don't embrace location-based marketing (or social media marketing at all) do so for two reasons:
1) They don't know how their customers are using mobile technology to interact with their restaurant.
2) They believe that social media is too time consuming.
The restaurants that do not participate in location-based marketing will soon have no choice if they want to remain competitive. According to a study of Foursquare user motivations by Carnegie Mellon University students, bars and restaurants were the most popular places to check-in, and many users cited that they use Foursquare to keep track of places that they have been. Thanks to the service's new Explore feature, users can also share where they have been with their friends.
Location-based marketing is the best way to keep in touch with increasingly mobile and social tech savvy customers of bars and restaurants. If you don't have the time or don't understand the technology, it has never been easier to find digital marketers who can help you out.
Image provided by pond5 – the world's stock media marketplace.