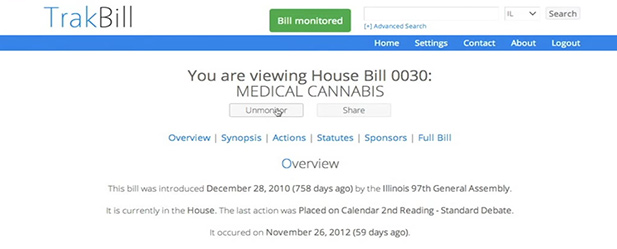 As an individual who has personally tracked legislation, the process can be more than a little intimidating.  Where do you start?  How do you know when new legislation is introduced?  Even just figuring out what to "Google" is a long process of elimination.  Did you know that in 2011 alone, there were 32,243 bills and resolutions enacted in the United States? That's a new law every 16 minutes.
Trakbill is a perfect solution, making it easy for anyone to stay up-to-the-minute on the 130,000 plus legislative bills introduced at the state and federal level every year, whether you are a corporation, interest group, or just a member of the general public.
Steven Marciniak, Founder and President of Trakbill, knows these challenges first hand and is dedicated to building a system that makes tracking and advocating legislation easier.  The idea for this startup was born almost two years ago when one of Steven's friends referred him to a lobbyist who needed a tool to better track legislation.  It didn't take long for Steven to see the potential that this software provided.  That's when he decided to take the idea to the masses, instead of just building it for one person.
"With Trakbill, you can search, track and discuss the legislation that is important to you and even predict how future votes will fall," said Marciniak.  "Trackbill means you can spend more time advocating and less time tracking."
As Marciniak hints in that last statement, Trakbill does more than just allow you to follow different legislation.  They've taken the time to really think about what will make this software useful to individuals, smaller interest groups, and corporations by integrating discussion into the mix.  You can easily share on social media and even contact your representative.
"A lot of these organizations need some way to voice their opinion and concerns and get legislators attention," said Marciniak.  "With social media, it only makes sense for us to advance in that territory.  For smaller interest groups, chambers of commerce, municipal governments on occasion, and constituents, it can be very hard to rally around a certain idea or topic.  We felt like this would be the best way to go about that.  Unfortunately, so many people don't know who their representative is.  Trakbill is a very easy way to not only find out but also communicate with them."
For this startup, there's nothing more important than providing relevant information to the people.  When asked about why he started Trakbill, Marciniak commented, "We'd like to establish more transparency in government and have people take a more active role.  Everyone should have a say.  But, to voice your opinion, you need to be educated about the topic at hand and know what's going on with that bill."
Even if you're not quite sure what you're looking for, Trakbill has made it easy to search through legislation.  "Sometimes you don't know exactly what you're looking for.  If I'm a lobbyist, I probably know the bill number for a particular topic, but a lot of people won't know that.  We made the search very intuitive, so you can search by bill topic, bill number, bill sponsor, or anything like that," said Marciniak.  "It's going to pull up the most relevant results based on how popular the bill is and give updates on that bill such as when its last action was, how many actions it's seen, and more."
However, that's just on a particular search.  Where Trakbill really transforms is in its alerts.  As a user, you can tell Trakbill to notify you when a new bill comes up on a particular topic, or keyword, that you set via text message and/or email.  Marciniak gave an example of this.  For instance, if you're interested in healthcare, Trakbill will send you notifications stating here's a new bill, provide a quick synopsis, then ask you if you'd like to track it.  "Even if you don't know exactly what you're looking for, we are able to tell you what might interest you through our algorithm," said Marciniak.  "Everything is customizable, and you set how often you receive updates and what kinds of things you receive, so you see only the bills that matter to you, when they matter."
Currently, Trakbill is covering legislation in Illinois and Missouri, but they have big plans for expansion.  In development right now is an iPhone app, which will allow you to have push notifications sent to you.  Plus, they'll be expanding their coverage to the national level this spring.  But, that's not all that's in store for Trakbill.
"Ultimately, we want to predict trends in legislation," said Marciniak.  "For example, if the general public consensus is one thing, does that mean that representatives will vote the same way? Let's say for instance 30% of public votes yes but 70% of Representatives vote yes on a particular bill.  Why is there a disconnect?  Also, we'll be analyzing different voting records.  If a particular legislator voted 9 times yay for a particular idea behind an environmental bill, what are the odds they'll vote yay on a similar bill?"
Even at its early stages, Trakbill is already garnering attention and providing a useful tool for those interested in tracking legislation.  You might even say that it makes keeping up with legislation convenient.  What do you think? Would you use software like Trakbill?  See it in action by viewing the video here, and let us know what you think in the comments!