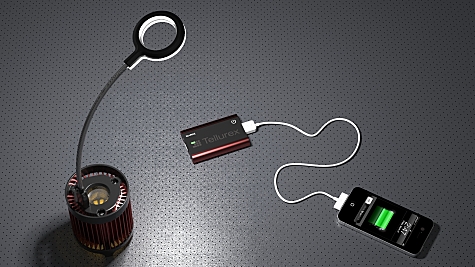 Tellurex, a Michigan based tech company, has unveiled a new gadget that harnesses the power of a five cent candle to provide LED lighting and a small amount of charge within a USB connectable battery. The new device, called the tPOD1, is a companion to the company's 5-watt model, which operates from the heat of a camp stove.
Its name is an acronym for thermoelectric power on demand. The device is intended to support disaster victims or provide basic power for people in poor rural areas, whose lighting alternatives often include dangerous fires.
The device enables anyone to create a small amount of electricity using a simple tea candle, which is placed in a thermoelectric chamber about the size of a soup can that additionally functions to keep the flame safe from the wind. Heat from the tea candle powers a 25-LED bulb or a removable companion battery pack. The pack can connect to any USB device to provide a limited charge.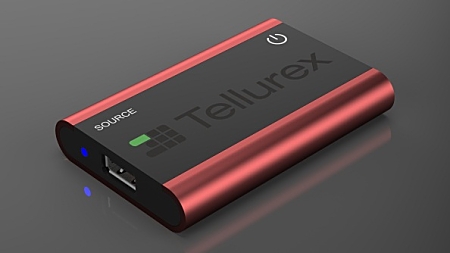 Tellurex claims that six tea candles, totaling 30 cents, can provide a full day of charging. The company hopes its new product will be an important emergency resource for campers and backpackers who find themselves without the power to call for help. The USB battery can provide smartphones with enough energy to perform basic emergency functions like GPS tracking, text messaging, and phone calls.
The company recently began a round of crowdfunding for the project on Kickstarter, offering t-shirts and tPOD1 kits that include the thermoelectric device, a number of tea candles, and a handy carrying case. With 464 backers, the fund is currently at $34,000 of its $85,000 goal and has more than three weeks left to go.
"With your help and the success of the tPOD1, not only will you and millions of others world-wide benefit from a dependable, eco-friendly off-grid or denied-grid power source, you will help our company sustain jobs and even add jobs as we look to increase production of the tPOD1 and other power generation devices," reads Tellurex's Kickstarter page.
Once it's successfully funded the company expects to make the tPOD1 commercially available by August of this year.