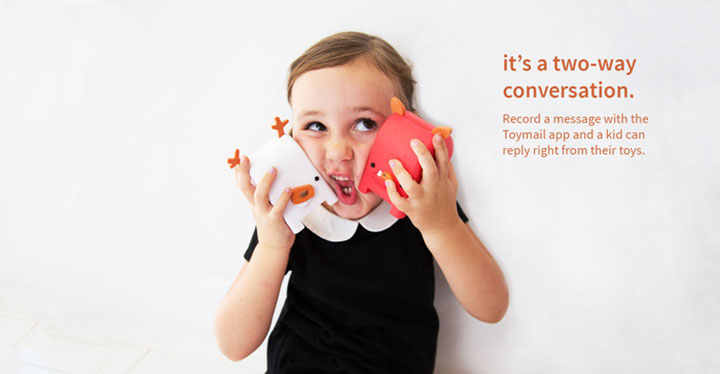 With Black Friday exactly one week from today, it's only fair that you have an alternative to this crazy shopping day, especially if you're looking to get the kids in your life something really special.
Now, I love a good Kickstarter, especially one with a cool gadget, but I've never actually backed a project.  That is until last night, when I ran across Toymail.  It's the genius idea of Gauri Nanda, the designer who brought us Clocky (the alarm clock on wheels) and co-founder Audry Hill.  Now, these two best friends have set their sights on toys and connecting individuals to the kids in their lives in a really fun way.
While I don't have children of my own, I do have a two-year-old niece and a five-year-old nephew who live three hours away. We Facetime when we can, but busy schedules get in the way quite often.  Toymail will allow me and my other family members to send messages directly to them through what they call "Mailmen."  These mailbox-like characters work through Wi-Fi and an iPhone app, meaning I can send a message to my niece and nephew, they hear it in a funny voice, and they can even respond back.  To get the full effect, see it in action:
There are five different Mailmen to choose from including Rochester, Fairfax, Snort, Buck, and Milksop, each with a unique look and fun personality.  For example, Milksop is a bear who sings to the tune of "Red Neck Woman."
"We got this idea that if you took a traditional talking toy and paired it with an app, it would never have to say the same thing twice," said Hill. "You, your kids, your family, your friends create what the Mailmen say. So each of them behaves differently throughout the day and from day to day. Each of the Mailmen is its own character, a composite of all of the important people in a kid's life."
In addition to personal messages, you can sign kids up for the daily Toymailer.  It will address the child by name and deliver an ad-free morning greeting, including jokes, news, fun facts, stories, or songs.
With nine days to go, they're already halfway to their goal of $60,000 with 461 backers.  These adorable toys will retail for "around $55" according to the company's press release, but back it on Kickstarter and receive 10% off.
The app needed to send messages is free, but messaging requires "stamps."  Your app download comes with 10 free stamps, and you can buy books of 50 stamps for $.99 or pay $2.99 a month to send unlimited messages.
Another great feature, the Mailmen can run on four AA batteries for up to a year with normal daily use.  That's good news for my brother, since his kids will hopefully be receiving Milksop this Christmas if the project is funded.
You can check out their Kickstarter page here, or go to their website at http://www.toymailco.com for more information.