Like a blog post? Give 'em a dollar. Epic indie music video? Here, have five.
Newton-based online gratuity service TipTheWeb is looking to shake up online revenue by giving readers a new option for showing their appreciation for online content with small, convenient monetary donations.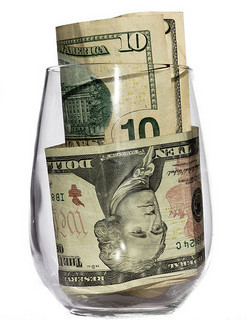 It debuts, though, at a time when Flattr already dominates the online tip jar scene. And while there are significant differences between the two – starting with the fact that TipTheWeb is a non-profit – they're fundamentally trying to solve the same online revenue problem.
I asked TipTheWeb director David Fogel how the two projects differed, and what the new entrant has to offer to the world of web publishing.
"One way of looking at the difference between TipTheWeb and Flattr is to compare the information in a single Tip versus a single 'flattr,' – both capture a moment in time when a user appreciates something on the web, but only the Tip also says how much," Fogel said.
"Tipping is not just about supporting web content, it's about promoting the best things on the Web to others, and this extra information can be really important: if you compare tipping a long blog article $1 versus tipping a short post 5 cents, that's capturing something important about the relative value of that content to that user."
On Flattr, users commit a recurring monthly charge to gratuities, which is divided up equally among creators they've selected at the end of each billing cycle. TipTheWeb, in contrast, lets users select the sum of each donation at between $0.05 and $100 – a distinction that he believes sets an important tone.
"TipTheWeb lets users control precisely how much they spend, for each Tip and in total, and doesn't require an ongoing commitment," Fogel said. "We think this creates a more direct, intentional, and meaningful interaction."
Another distinction is TipTheWeb's focus on diverse types of content. Unlike Flattr, the service can work entirely with URLs: Since it doesn't require any type of website integration, it can be used to support content on a greater range of platforms.
Fogel said that at TipTheWeb, "we think that we do a better job with supporting the many places people publish online besides private websites. TipTheWeb allows people to tip videos posted to YouTube and Vimeo, pictures on Flickr, open source software on GitHub, presentations on SlideShare and more, and for each of those sites, we've put in place secure ways for people, as publishers, to claim that content and receive any associated Tips."
TipTheWeb also doesn't take a cut of donations.
Fogel, who has worked previously for Jackpot Rwards, Open Ratings and Adobe, noted that in spite of the differences between the two services, the TipTheWeb team is glad that alternatives like Flattr exist, since it increases the overall chances of at least one project providing a solution for publishers.
Image: Dave Dugdale CC BY SA 2.0