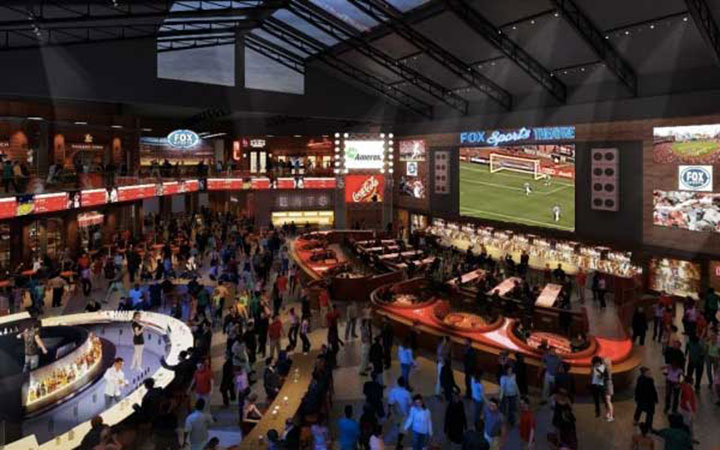 There are 70,000+ Bosnian immigrants in the St. Louis area.
Huge crowds at the Bosnian national team's games in St. Louis turned both into a home game for Bosnia.
Bosnia Herzegovina is in the World Cup for the first time ever.
The New York Times just reported that St. Louis is about to be Sarajevo West.
In other words, expect some passion. Expect St. Louis to be a real football town for the next four weeks. And not just from our Bosnian community.
Bars across the region are setting up big screens. The Scottish Arms, my favorite pub in St. Louis, has screens inside and out. Ballpark Village will be airing every World Cup game on the big screen, either inside on the Fox Sports Midwest Live Screen or outside on the Busch II Screen.
According to the NY Times story, Akif Cogo, 30, a native Bosnian who immigrated to St. Louis in 2001, responded to a question about the World Cup and Bosnia, stating "There's pretty much three places in the world where you want to be right now. One is Brazil. Second one is Bosnia itself, because of the sheer number of people. The third place is definitely St. Louis."
"This world cup is finally almost here," Ali Nisbet, a Scottish immigrant and owner of the Scottish Arms in the Central West End, said earlier this week. "A few things we have in store for this year. New large TVs for the patio, couple of tents out back with beer tubs and backyard bbq every game, huge projection screen dining side, bar will be a rocking. It's going to be a fantastic cup – Come On USA!"
Adding to this World Cup frenzy that is about to be unleashed in the center of the US is some additional football (soccer) related news that was announced last month. USL Pro has awarded St. Louis a Division III professional soccer franchise that gives St. Louis not only some quality footie (soccer) but also the potential to be a feeder city to one of the MLS teams and increased probability to land an MLS team of its own in the near future.
"The interest [in St. Louis] seems very good across the board just as we poll the community, and anecdotally talking to different people," Jim Kavanaugh, CEO of World Wide Technology and a key leader in the management of the new team, recently told MLSSoccer.com. "But I don't think we're really going to know until opening night."
The new professional team, officially named St. Louis FC, will play at St. Louis Soccer Park, a 6,000-seat facility in Fenton, Missouri, beginning in 2015. And yes, season tickets are already on sale.
Will you be watching the World Cup? How will tech play a role in your experience, aside from enjoying the games on a big TV at your local pub?  After all, BBC reported this will be the "most hi-tech football event ever" with high speed cameras, an image processing computer that tracks the ball's position to within a few millimeters, and sends a vibration to a referee's watch for every goal in less than a second.