Less than one year after launching their "celebration of Chicago entrepreneurship", Seth Kravitz and his Technori crew packed a 500+ seat amphitheater with innovation-craving web enthusiasts salivating over a glimpse of the latest startups in our burgeoning tech community. No small task on a random Tuesday night in autumn, with frequent hiccups actually adding to the charm.
Admittedly, the monthly Technori Pitch event is more of a geek showcase than the gregariously titled Funding Feeding Frenzy and oft-maligned Business Network Chicago capital matchmaking showcases.  Gone were the boilerplate slide decks, egotistical coaching of organizers and curmudgeonly feedback from metrics-driven investors. This was about good old whiz-bang creativity and getting the increasingly cliché minimum viable product to market. For the most part, monetization was an afterthought to geeky "look what I made" exuberance.
Before I get too gushy, for a 6:30-8:45 PM event with 500+ tickets — sold at $10 a pop — and a sponsor list including Chase Bank and a veritable who's-who of the Chicago tech investment community, I expected a bit more to the perks than a plastic cup of pretzels on the way in and a few ransacked boxes of Domino's Pizza on the way out. Also, I'm all for building anticipation, but don't leave the crowd in clueless bewilderment while a few organizers fiddle nervously at the podium with no actual announcements until 7:15.
Now that the griping is out of my system, it's worth mentioning that Technori stuck to their bleeding edge locally-focused ethos utilizing a wi-fi hotspot from ChicagoMicro and a nifty web-based Q&A tool from SoapBox. Okay, on to the startups:

First up was Jon Pasky from TechWeek, which somewhat ironically is also a startup promoting a showcase of Chicago entrepreneurship. In a shameless ploy to grow their email list and plug their own event, Jon raffled off a free ticket the next Chicago conference in June 2012 (congrats Jon Pirc from Lab42!). Then he solicited new writers (I wonder if they pay?) and attendee blog RSS feeds for their site, and went on to explain how TechWeek is quickly becoming the envy of TechCrunch Disrupt imitators everywhere.

Next, Jennifer Morehead from Lockboxer took over, charismatically explaining how their service helps you price out all the stuff in your home and then use tools to sell, donate or inventory those items for insurance purposes. The site is a fantastic example of what can be done on the cheap by integrating publicly available API's – in this case from Google Shopper, eBay, GoodWill, Salvation Army and 800-GotJunk. Their monetization plan is through premium advertising and selling sales leads to homeowners insurance companies (I got a special kick when Seth asked about this aspect, realizing most of the crowd doesn't know he's the CEO of the biggest insurance lead-gen company in the US). Audio problems with the demo video quickly zapped Jennifer's stage presence, but this was still exactly what the crowd came to see.

Citing the new-age holy alliance of entrepreneurial scribes – Tim Ferris and Eric Ries (sorry Jason Fried) – Bankbadger's Brian Busche took the stage next, and he could not be more proud to be a soloprenuer with a semi-baked website that helps parents teach their kids about online banking. Being comically careful not to offend Chase, he explained that since pesky privacy regulations prevent children under 13 from banking online, his site allows parents to play banker while kids earn merit-based badges online. To me, not having even a theoretical monetization strategy is a bit too lean for comfort, but I appreciated the pitch-mocking hockey stick revenue chart he presented regardless.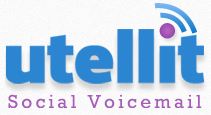 Rishi Khullar from utellit loves to make people laugh, and his brand of goofy humor is evident in just about every aspect of this social voice messaging app. Utellit helps you easily record a voice message on your mobile device and post a link to the recoding on social media platforms. Instead of the lame LOLs, WTFs, LMAOs and HB messages polluting our various news feeds, now you can post something with a more human touch — your own melodious voice.  They plan to make money by allowing outside developers to access their API and integrate voice messaging into third-party apps, then charge a small fee per link/recording. I'm not sure charging for the technology will fall on the right side of the build-it vs buy-it spectrum, and people tend to prefer text over audio in most social settings, but I am in favor of anything that halts the downward spiral of lazy messaging we've all fallen prey to.

Berst is a new app described by founder Caleb Foster as "contextual geographic grouping"…heady, I know. It's essentially a way to create location-based chat rooms. Despite some technical glitches that Seth wisely apologized for in advance, they earned cool points for creating a chat room specifically for this pitch event and won the crowd over by enthusiastically showing how two random people in Greece were actually using it to connect. I thought the most intriguing way to use it was when Caleb explained how he documents his frequent visits to a favorite coffee shop by leaving pictures from his various visits for other friends who go there as well.

I'm torn on the next startup, Jump Rope, who launched at the event to major applause. It is an app that lets you instantly buy your way to the front of the line at enrolled night clubs and events, with pricing that fluctuates intelligently based on capacity, timing and weather. You simply show your one-time animated purchase receipt to the bouncer along with your ID and move on to the VIP section. CEO Peter Braxton is a smooth dude, and he seems to have created Jump Rope as the scratch his own itch to pay a premium for immediate access instead of waiting in lines with the riff raff. For Chicago locals, it's no shocker they're launching in River North, where there are plenty of night clubs and showy twenty-somethings looking to blow paychecks without ruining designer threads in the rain. Here's why I'm torn; I'm pretentious and impatient enough to use this app…but so is everybody else in line, so I wonder how juiced-up earpiece-wearing doormen (Doorman!) are going to react when fifty sloshed club-goers approach at once waving their phones in the air and demanding immediate access.

Our next demo company, WizOra, is quickly becoming a darling of the local tech scene stemming from big moves in getting accepted by the illustrious TechStars incubator and an upcoming feature on Bloomberg TV.  Plus, it is a pretty cool site that could go big. Founder Dan Novaes describes it as a "recommendation engine for food, fun, savings and more", describing the competitive landscape as "Yelp sucks because it's full of fake reviews, too much data and lacking in personalization." By culling data from your Facebook profile, answers to initial survey questions and habits while using the site, they track your preferences — similar to cookies in a web browser — to make consistently more appropriate suggestions in accordance with your tastes. Eventually they plan to make money through affiliate deals with daily deal sites and by directly selling tickets to events. With Yelp claiming 50 million unique visits per months to what really is a pretty basic review site, WizOra is looking good for driving traffic by delivering a more personalized experience.

Last up was Junto, also launching on the spot to enthusiastic audience approval, as an "everyman incubator" to help non-technical entrepreneurs get big ideas off the ground. The ambitious process looks something like this: 1) Submit your idea for a mobile or web application. 2) If their team thinks it's cool, they'll agree to help you build it. 3) Raise capital through a Kickstarter-like crowdsourced funding model. 4) You get matched with mentors from Junto's network. 5) Junto builds your product in return for 5% of potential profits. 6) Investors serve as your R&D focus group. 7) Launch! Oddly, investors get nothing other than karma for backing an idea. Now, I'm sure the creative minds from Polymathic are as brilliant, well-connected and altruistic as they presented themselves to be, but the whole project seems like overreaching. Then again, I'm halfway through their application process for an idea of my own…
OK, so what are the takeaways? Well, for one, Technori has successfully caught the ear of Chicago's tech community by catering to entrepreneurs instead of moneymen. Second, this whole Lean Startup craze feels to me like the Atkins Diet mania of the late 90's, with good lessons to be learned, although ultimately unhealthy when taken to extremes.  And last, minuscule barriers to entry launching web and mobile services means bright ideas won't stay on the shelf for long, so you'd best get moving or somebody else will be on stage next month unveiling it to the world.
Featured image credit: Andrew Jackson