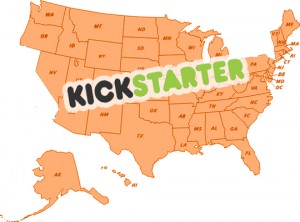 Flyover country? We don't think so. Outside of the Alley and Valley,  entrepreneurial and technology innovation  is spreading like wildfire and great examples of flyover innovation can be found on KickStarter.
For those who don't know, Kickstarter is a peer-to-peer funding platform for every kind of creator – artists, designers, musicians, and inventors. The platform offers a new alternative for startups and inventors who don't live next door to 100 VCs. Location shouldn't determine whether a great idea gets funded and with Kickstarter it doesn't.
Plain and simple, we love seeing people making good ideas happen. Check out some of our favorite Kickstarter Projects from flyover country:
** Note: All of these projects are fully funded.
CineSkates Camera Sliders – Austin, TX

CineSkates are a set of three wheels that easily attach to a tripod and enable fluid, rolling video in an ultra-portable package. The above video was shot using this technology and as you can see the technology is pretty amazing!
Protei: Open Hardware Oil Spill Cleaning Sailing Robot – New Orleans, LA

Protei is a low-cost open-source oil collecting robot that autonomously sails upwind, intercepting oil sheens going downwind. Protei aims to combines conventional technologies into one innovative design that the New Orleans team plans to implement in the short term to address environmental crises like the BP Oil Spill.
LilyPad Case: Light to Power All Our Mobile Devices – Orlando, FL

The LilyPad uses new solar ink technology to convert outdoor and indoor light into usable energy to continually charge tablets such as the Apple iPad.
Robodance 5: Telepresence robotics for all esp. the disabled – Boise, ID

The $300 headset allows you to operate a computer in several new innovative ways, but for Robodance 5 it is the ability to detect head movement and facial gestures that are important. Coupled with the inexpensive Rovio, it can give those with limited mobility a mobile set of eyes and ears to explore their home or any place else in the world there's a Rovio they can connect to.
MORE/REAL Stylus Cap – Chicago, IL

The MORE/REAL Stylus Cap turns a Sharpie, a Bic, or a Pilot Fineliner into a touchscreen stylus that works with any capacitive touch screen. The tips of the Stylus Cap are replaceable. If for some reason a tip fails, it doesn't mean you have to discard of the whole product. All you have to do is snap on a new tip and you will be ready to go.The MORE/REAL Stylus Cap is the only stylus with this capability.
Modular Desktop CNC Machine – Minneapolis, MN

Similar to a printer, a CNC is essentially a machine that is controlled by a computer and can perform highly intricate maneuvers over and over again. But instead of dispensing ink onto the paper, the CNC uses a cutting tool to cut shapes into wood, plastic, & aluminum.The Minneapolis team thinks that in the near future a CNC will be in every workshop and home garage.