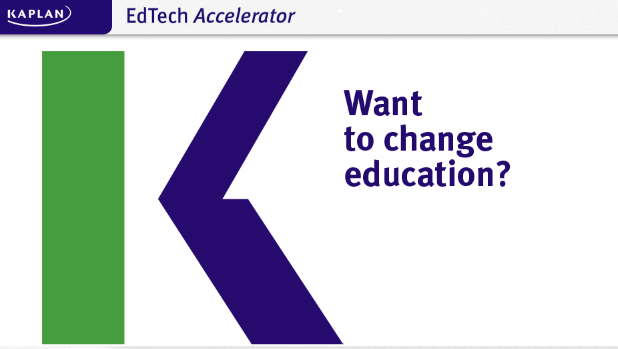 Ten startup companies tread fearlessly into the future of edtech after ten weeks of growing their products with edtech mentors and like companies.
Kaplan, a global educational services company, paired with nationally renowned startup accelerator, TechStars, to form an inaugural class of companies building technology for new educational platforms, new forms of instruction and new curriculums.
TechStars invested $20,000 into each company, and Kaplan provided mentorship and existing educational technology resources. At the program's completion in mid-September, Kaplan executives prided the startups' commitments to revolutionizing education.
"They're doing it at a time where education is totally ripe for disruption," said Kaplan CEO Andy Rosen at the program's "demo day," where the startups showcased their products to investors and media. Rosen said in five to ten years, these companies will be big players in the education industry.
But after the tenure at TechStars, Chicago-based MentorMob, one of the accelerator's chosen companies, proves the next five-ten years to be challenging – making their lessons learned all the more valuable.
"It's hugely helpful because everybody has an opinion. And it's really hard to distinguish a pretty good opinion from an expert opinion," said Charles Perry, MentorMob communications director. MentorMob is a crowd sourced learning platform whose community creates "learning playlists" out of the best of the web.
Perry said the problem-solving strategy the team has developed is far more effective than before because the program's mentors were so efficient in locating problems and identifying actionable responses.
"We are much more able to identify patterns that we [fall into] by accident," he said. Many groups fall into a groupthink problem in which all team members agree, and therefore solutions seem right. Perry said this is not always the case.
"We are much more likely now to make the right decision," he said.
MentorMob is now two years old and hopes to launch a beta site by the end of the year, and is actively seeking funding.
Perry explained that the companies drawn to the program have come from different trajectories – some businesses more developed than others. Regardless, "it was also really helpful to see how other teams operate," Perry said.
Perry gave three takeaways that his team walked away with:
– "It's easier said than done, but don't be self conscious, don't be afraid," he said. "There were some CEOs that were such natural introverts, and whenever they opened up about their experience — it always paid dividends."
– "Failing fast is one of those terms that get thrown around all the time and people are just sick of it," he said. "It's hard to separate something that's not working with being ashamed that you ever even tried it in the first place… It's really hard to do it, and you can only do it if you're surrounded by a good team and solid mentors."
– Make sure you spend lots of time messing around, he said, because the most memorable, constructive conversations come when you're just having a beer with another team or teammate.
The future of MentorMob might be developing new features to the product, and it might be relocating. "It definitely will be identifying which audiences we want to go after for life-long learning, to grow MentorMob from a startup business into a small business," Perry said.
The next five-ten years will be telling for the edtech startups graduating from the program.
"I can't wait to see how the different companies in this class end up working together," he said. "Reforming education is such a monumental task… there's room for success for all of us."
 The full list of members of the TechStars NY Summer 2013 team:
Degreed – Jailbreaks the degree by tracking your lifelong education both formal and informal. via Twitter
Flinja – Job marketplace for students and alumni, creating a work profile for the world to see.
Modern Guild – one-on-one, online career prep courses to maximize college and jumpstart your career search. via Twitter
Pan Open – Solving the problems of using free textbooks (OER) at institutions
Mathify – K-8 Math Meets Angry Birds.
Ranku – Online degrees you can be proud of from schools you trust
Uvize – Helps military veterans succeed in college academics. via Twitter
Verificient – Scalable continuous verification of identity and authentication of credentials
Newsela– Personalized literacy solutions using current news content