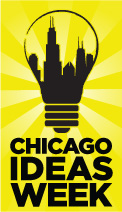 This week begins the inaugural Chicago Ideas Week. Running through Sunday, CIW is presenting talks, labs, and programs designed to spread innovation and intellectual exploration throughout Chicago.With 100 speakers spread out during the week, combined with the separate partner programs and labs, finding the right events to attend may seem like a daunting task. Tech.li is here to give you a simple guide on how to get your startup and entrepreneurial fix for the week.
Monday
The Museum of Contemporary Art is hosting a Social Entrepreneurship talk from noon to one. 8 speakers from social-minded companies like Dowser and Better World Books will give a two hour talk about the world of social entrepreneurship and how to make a difference.
Tuesday
The Tribeca Flashpoint Academy Stage at the Merchandise Mart Tuesday has two partner programs run by Microsoft, one of the founding partners for CIW. They will focus on the development of web apps. The first, which starts at noon and runs for 90 minutes, will cover HTML 5. The second, starting at 5:30 pm and running for two hours, covers development for Windows Phones.
Wednesday
Wednesday features one of CIW's Megatalks, Tech & Web. 11 different web business will be represented for this two hour talk at the Thorne Auditorium. Starting at 4:30 pm, the groups, including Eric Lefkofsky of Groupon, Mitch Lowe of Redbox, and Tim Westergren of Pandora Media, Inc, will talk about how technology is changing our lives and what is set to come.
Thursday
"Reimagining the Future Economy" is a CIW talk at the Museum of Contemporary Art. The panel of six, whose members' backgrounds range from a CEO to a chief scientist, on the changes that can be made to affect a better financial future. This talk will run from 9:00 a.m. to 10:30 a.m.
Friday/Saturday/Sunday
The largest event of CIW is Startup Weekend. It starts at 5:30 p.m. on Friday and runs until Sunday at 9:00 p.m. Startup Weekend provides a location for students to develop a web or mobile app. The event, being held at Excelerate Labs, will bring students together with people in the industry, developers and designers for example, to create a sustainable commercial business built from the apps.
In order to purchase tickets for an event, usually around $15 each, register with CIW here.
Expect more coverage throughout the week from the Tech.li staff.