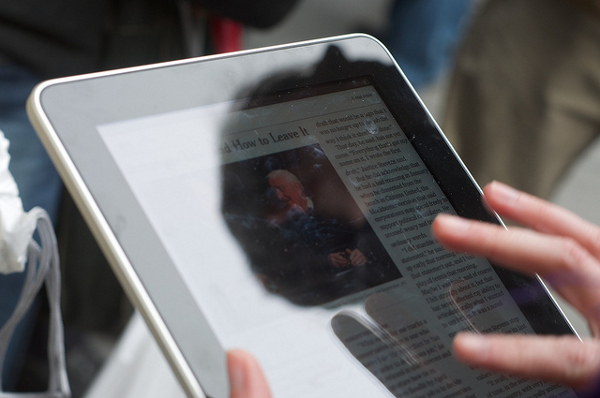 Do you pull out the New York Times on your morning commute, or an iPad?
Mobile internet connectivity is changing the way consumers access news, according to a recent report, with rising consumption of news on tablets and smartphones, stronger traditionally print brands, and rallying long-form journalism posing dangers as well as opportunities for the chaotic news industry.
More than one in four Americans now reads news on a smartphone or tablet, according to the Project for Excellence in Journalism's annual State of the News Media report. And likely because readers are using mobile platforms to catch up on news during down times, like commutes, data suggests that new market share is augmenting readership on other platforms – a glimmer of hope after a glum decade for the news industry.
"Mobile news consumers are even more likely to turn to news organizations directly, through apps and home pages, rather than search or recommendations – strengthening the bond with traditional brands," reads the report. "The evidence also suggests mobile is adding to, rather than replacing, people's news consumption."
The authors also noted that tablets, with their print-like form factor, are encouraging users to read lengthier long-form stories, and to return frequently for a new fix.
"Taken all together, the growing body of data suggests that the move toward mobile holds some promising options for news producers, including increasing the amount of overall news being consumed," they wrote.
The influence of social media, surprisingly, is still somewhat muted, with most users seldom opting to follow recommendations by contacts on social networks. At the same time, the market may not fully be tapped, with the average user spending more than 14 times as long on Facebook than on the most popular news sites.
The authors also express concern at the strides Google, Amazon, Facebook and other technology giants have made in the past to "consolidate their power by becoming makers of 'everything' in our digital lives" by investing simultaneously in hardware, operating systems, browsers and content distribution networks. Five technology companies now account for 68 percent of total online ad revenue, with Facebook expected to serve one in five online ads by 2015.
What would it mean if consolidations started to put those advertising heavy hitters under the same roof as news outlets?
"All this raises the question of whether the technology giants will find it in their interest to acquire major legacy news brands – as part of the 'everything' they offer consumers," reads the report. "Does there come a point, to ensure the much smaller media company's survival, for instance, where Facebook considers buying a legacy media partner such as The Washington Post?"
The Project for Excellence in Journalism is a project of the Pew Research Center, a nonprofit public research think tank based in Washington, D.C. and funded by the Pew Charitable Trusts.
Image: Flickr//Steve Rhodes