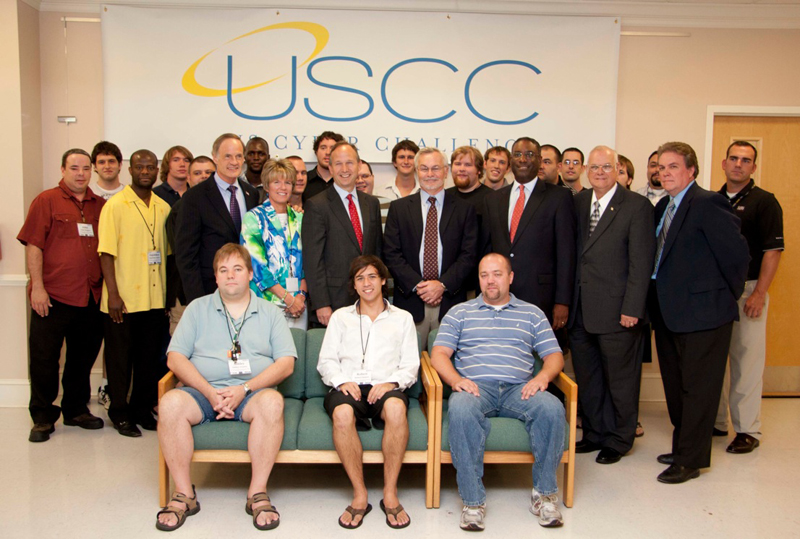 First year graduates of the Cyber Security Camp / Image credit: news.delaware.gov
As kids it seemed like it was everyone's dream (at least mine) to head off during the summer months to some crazy space camp where you build a rocket and go zip lining over a flight simulator. But in the age of the Internet and threats of cyber warfare, the most attractive option, at least for locking down a good career, might have you heading to a cyber security summer camp.
Beginning this week, a selection of 30 talented cyber security trainees are headed off to the University of Delaware for a five day Cyber Security Camp and competition — the third of its kind held by the US Cyber Challenge.
The attendees were chosen based on their performance in various online competitions held by the company, including a selection of the more than 1,000 users who participated in April's Cyber Quests, a challenge focusing on analyzing and identifying web vulnerabilities.
Camp activities will include of cyber security workshops taught by both University of Delaware faculty members and field experts, and even a job fair featuring recruiters from big name organizations like the Department of Defense and Lockheed Martin. At the end of the week, the thirty attendees will form teams to play a virtual game of capture the flag. Each member of the winning team will receive a $1,000 scholarship, provided by security firm ISC2.
The event has been organized to draw attention to the growing demand for cyber security professionals. US Cyber Challenge estimates that less than ten percent of the positions have been filled in a market in need of more than 30,000 cyber security experts.
"The mission of the US Cyber Challenge is to significantly reduce the shortage in the cyber workforce by serving as the premier program to identify, attract, recruit and place the next generation of cyber security professionals," the company said.
So in the end it's more of a five day long recruiting convention than a Wet Hot American Summer, but with those odds of landing a killer job, who could complain? I just hope they can find time to squeeze in a half day canoe trip, or at least a ride or two on the zipline.