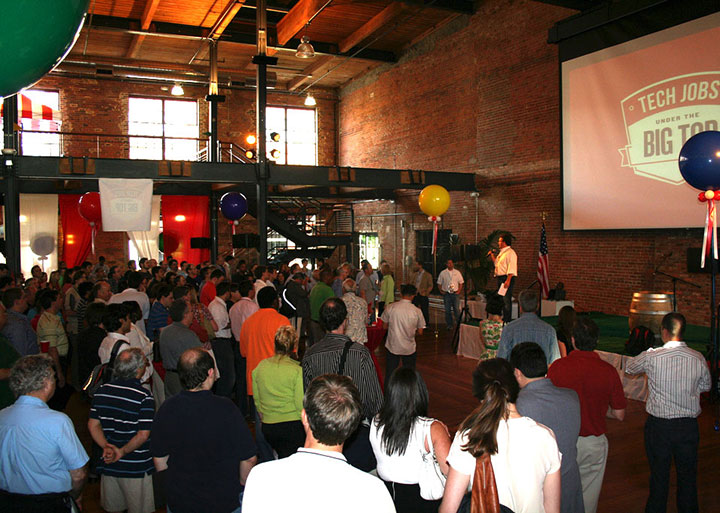 Looking for your next job opportunity in tech?  Instead of spending hours searching online and checking job boards, you should try a job fair.  But, not just any job fair.  Here at Techli, we've teamed up with Chris Heivly, MapQuest co-founder and managing director of The Startup Factory, to bring Tech Jobs Under the Big Top to St. Louis on February 6.
Of course, the idea of the job fair is not new.  But, at this circus-themed event, you'll be able to meet and talk with some of the best companies in the area who are looking for talented people just like you.  And the best part?  No suit or resume required.
The event is designed to be casual, making it easy and fun to network and really get to know each other as you search for your next opportunity.  Plus, companies pitch to you, not the other way around.  Wouldn't it be nice to have companies looking for you for a change?
This concept began in the Research Triangle of North Carolina in 2011, and since has seen five very successful events.  It's free for jobseekers to attend, and individuals of all skills and experiences are encouraged to apply, from recent grads to seasoned veterans.  Job openings are available in the fields of software development, sales, marketing and project management.  Event details are below as well as the link to register.  If you or someone you know is looking for a job in tech, make sure they know about this event.
Tech Jobs Under the Big Top Sponsored By BioSTL
February 6, 2014 @ 5:30 p.m.
Where: Lumen
2201 Locust St.
St. Louis, Missouri
Participating Companies Include:
—————————————-
This post was updated on Tuesday, February 4, 2014, to include all participating companies at Tech Jobs Under the Big Top.