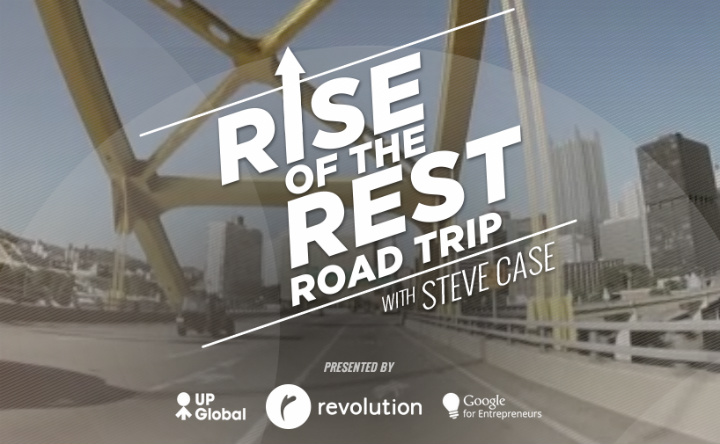 Steve Case, the former CEO of AOL, will be coming through our city this week. It's part of his "Rise of the Rest" tour that aims at highlighting the growth and innovation taking place in startup communities across the Midwest. St. Louis is the last stop of the five-city tour where he'll be holding pitch competitions, including Madison, Minneapolis, Des Moines, and Kansas City.
While it might seem strange for someone like Steve Case to hop on a bus this week to tour Midwestern cities, it's also indicative of the important things taking place in what most refer to as "Flyover country." Well, we won't be called that much longer if Case has anything to say about it, which he does.
"There's great things happening with great entrepreneurs building great startups," said Case. "But they don't get the national attention that they deserve. [I'm] trying to figure out ways to shine more of a spotlight from a media standpoint and an investor standpoint. That's what "Rise of the Rest" tour is all about."
In each city, ten companies will make their pitch, and Case along with his expert judges, will decide on a winner. One startup in each city will be selected to receive a $100,000 personal investment from Steve Case and a trip to the 2015 SXSW Startup Village, where they will vie for additional funding.
In St. Louis, Case will be joined by Seth Goldman, co-founder of Honest Tea, Maxine Clark, co-founder of Build-a-Bear, Jim McKelvey, co-founder of Square, and Robb Heineman, CEO of Sporting Club on his judges panel. They'll hear pitches from the following St. Louis-based startups:
Case told me that he didn't personally participate in the selection process of these ten startups, as he likes to learn about them first-hand, but he did have some advice.
"Make sure you tell your story quickly and passionately. We need to fall in love with the idea, and we need to believe the idea can change the world. Make sure it's clear what the idea is and why it can have a broad impact," he said. "Second, highlight the team. Entrepreneurship is a team sport. Who on your team has the skillset and perspectives that will take that idea and bring it to life? Third, provide some clarity of what is the strategy? What's the business model? What kind of partnerships might you be able to form?"
There are many advantages to building a business in the Midwest, just like there are advantages to building a business on the coasts. Case shared that it really comes down to what you're trying to do, and cited cost of living as one specific advantage for startups in the Midwest.
"Companies raising money go farther in a place like St. Louis than it would elsewhere," said Case. "There's also a mindset in the middle of the country that will be helpful in this next wave of companies. [Companies] will require more partnerships, not to go it alone, more perseverance, and more engagement with policy makers and governments [to be successful]. That orientation around partnerships and perseverance and policy, the middle of the country has more of a built-to-last, patient DNA."
As for his thoughts on St. Louis…
"It's a great city. Read this morning the interview [Techli] did with the mayor about the startup scene and was encouraged by some of the points he was making," said Case. "I have no doubt we'll be impressed with what we see there and encouraged. I look forward to being in St. Louis. We have five great cities, but hopefully we saved the best for last. Tell them to bring it!"
You heard Case. Now it's up to you to impress him on Friday. Come out and show your support for the innovation taking place here. There will be a fireside chat with Steve Case and Jim McKelvey at 10 a.m. and the pitch competition will begin at 4:00 p.m. followed by a Startup Celebration at 5:30 p.m.
You can find more information about these three great events and register to attend by clicking here.