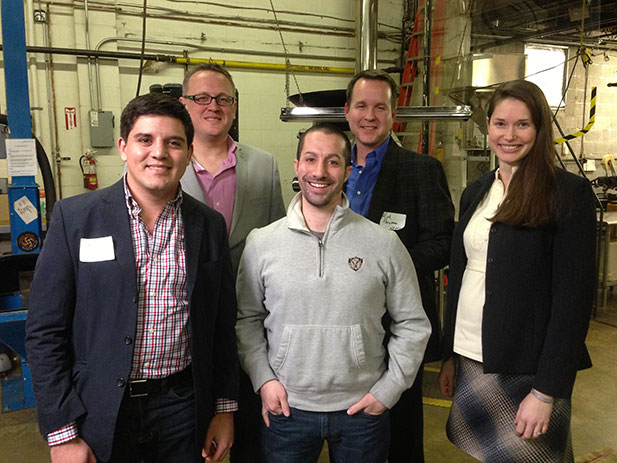 If you think that the Midwest is only good for flying over, you might want to hold that thought.  As showcased at the February 20th Social Media Club St. Louis (SMCSTL) event, there's something unique and exciting taking place in the "Gateway to the West."  And at its core, is a thriving startup community.
Why are we seeing this boom happening here?  What makes St. Louis an ideal community for a startup?  Wouldn't it be better to head out West?
Leading perspectives within the St. Louis startup community answered those questions and a whole lot more at the recent SMCSTL event. Panelists included Gabe Lozano, Co-Founder and CEO of LockerDome, Sarah Spear, Executive Director of Arch Grants, Matt Menietti, Director of Operations at Capital Innovators, and Kirk Bowman, Founder of zZipline, To round it out, the discussion was moderated by our very own Edward Domain, the fabulous and always entertaining founder of Techli.com.
One of the things that every panelist agreed on was the incredible opportunity that St. Louis presents for startups, and they all expressed a strong interest in staying in this area as well.  Best stated by Bowman regarding his company zZipline, which specializes in social pay, "We're determined to grow here, and we're the right amount of angry about it."   Many times when you start to grow fast, you'll be pressured to move west.
Having such dedicated entrepreneurs with a passion for this city is a huge benefit for the community of St. Louis, and it's one that isn't going unnoticed by major corporations, even fortune 500 caliber companies.  Sarah Spear explained, "We're seeing established businesses recognizing that the future of the economy for the St. Louis region is going to come from startups.  So when we focus on that startup economy, we're really focused on the hope of business growth for the region."
Thanks in large part to social media, Arch Grants in particular has noticed increasing interest from startups all across the world wanting to come to St. Louis, growing from 420 applicants to 707 applicants in just one year.  These applicants came from 16 countries and 38 states within the U.S., and they'll award $1,000,000 in the form of 20 grants in their next round of funding.
Capital Innovators has experienced this type of interest as well, receiving hundreds of applications for funding.  They provide $50,000 in seed funding for those selected.  To date, they've invested in 24 high-growth startups and collectively raised $14 million.  With revenues over $3 million, these startups support 246 jobs.
Not only is St. Louis a great, affordable city, but also it offers a wide array of spectacular talent.  Gabe Lozano, Co-Founder and CEO of LockerDome, the fastest growing sports site in the world, shared his thoughts on building a company in St. Louis stating, "We chose to stay here because we believe we can build a great company here.  One, it's cheap to be here.  The other thing that I've noticed is that there are smart people everywhere.  You don't have to go anywhere to find them.  But there's something about inspiration that really matters in building a great company.  In cultures like St. Louis, where people crave to be successful, people are inspired to do things like sleep in an office for 8 days, which we've done. That type of stuff is really meaningful in building a great team."
All the panelists agreed that hiring the right talent is imperative to growing a successful startup, but it's not just based on your skillset, which St. Louis has.  Matt Menietti confirmed this stating, "The quality and talent are here. People have misrepresented that in the past that you can't find good technical help here, and it's simply not true."
To truly make it, you need extreme passion from people who believe in what you're trying to accomplish.  As all panelists shared, being an entrepreneur is not an easy task.  You're living and breathing your company, possibly even living in your parents' basement to save money in the beginning, and working around the clock to make progress.  It's not an 8-5 job, which is why LockerDome has what they call LockerDorms, a place where team members can catch some sleep during long shifts.
However, passion aside, there's one more thing that truly separates St. Louis from other communities and is likely the most important factor in why its startup community is thriving.  The people of St. Louis support each other with their willingness to share information and collaborate with one another.   Sarah Spear said it best stating, "St. Louis is unique from other eco-systems.  The attitude of collaboration versus competition is huge.  People are willing to talk with each other and discuss their technology, seeing how they can interact and benefit one another.  That's very different from playing the cards close to your chest mentality you see in other regions."
So what have you seen within this community?  Do you think that the startup community in St. Louis will continue to grow?  As Bowman pointed out, Austin, Texas in 1985 was a college town.  When you look at it today, it's almost hard to believe that it became Austin in one generation, that change like that can happen that fast.  What will it take for St. Louis to make that change, too?  Let me know your thoughts in the comments.