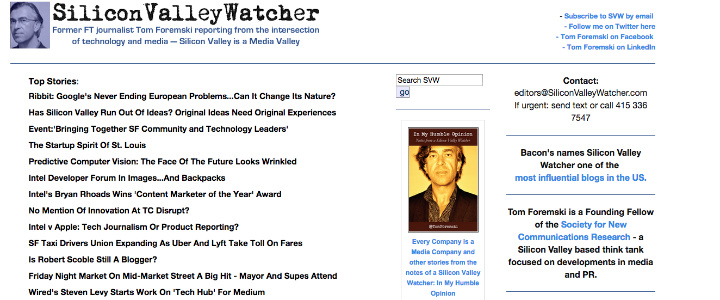 As you can see from a screenshot (above) of the Silicon Valley Watcher, Tom Foremski has a lot to say about Silicon Valley and a lot of people are listening.  In 2013, Foremski was named one of the Top 25 Innovators of 2013 by The Holmes Report, #28 on the Top 50 Silicon Valley Influencers by NOW Public and he is also one of the headline speakers at Startup Voodoo this Thursday, Sept. 25th.
I had a chance to chat with Tom about Silicon Valley, the Midwest and startups in general.  Here's our conversation.
TECHLI: What are some of the trends that you see in startups and our increasingly digital lives?
TOM: We all create little tornadoes of data every time we step outside.  Everything is obviously geared towards mobile and now I think we are seeing the reemergence of personal computing via mobile.
I'm looking at a whole new class of applications that the customer controls.  Int he '90s, there were semi autonomous programs that did things for you such as finding seats for you on a plane.  Those programs were always working away even when you weren't engaged with them.
Now, I'm looking for technology that does that again- call it personal computing- the client controlling the software vs. taking service from an aggregated platform.
TECHLI: What about today's entrepreneurs vs. the '90s startups that led the way?
TOM:   Startups used to be run by entrepreneurs that wanted to change the world vs. make a quick buck.  Now, you tend to see startups focused around what a college graduate wants.
Let me explain: To have original ideas, you need to have original experiences.  What do college grads want?  In general, they want to find a date, order a pizza and find places to go with their friends.  Companies like Google put them on buses and take them straight to work.
These entrepreneurs are creating businesses around what they want and they aren't having original experiences to create original ideas.
If I ran Google, I'd make everyone find their own way to work.  Then they would have to deal with the stuff everyone else has to deal with: getting to work on time and the list of other hassles we all have to deal with every day.  If they had to deal with these problems they might be inspired to create companies that change the world.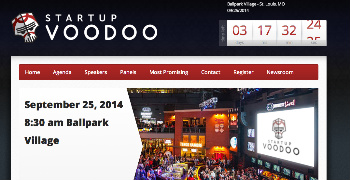 TECHLI: What's the biggest difference between Silicon Valley and the Midwest?
TOM: Silicon Valley is all about funding right now.  There are big startups that were heavily funded that are making money and are real businesses like Google, Facebook and Twitter.
From the capital perspective, if you want to be in the game, you need to spend the money.  The problem is these massive companies (like Facebook) routinely buy anyone that might be competition and it results in less ideas breaking through.
In the Midwest, I like what I've seen in Chicago.  Take a business no one really talks about but is hugely successful like Centro, which is owned by a former journalist.
It doesn't have to be "either or" anymore.  It's an "AND" world we are living in now.  Every place doesn't need to be Silicon Valley.  Now you can build a business where you want.  You have Silicon Valley AND Chicago, AND St. Louis, etc, etc.
Exits are also going to be important for the Midwest.  Until you get big exits in a city, you won't get entrepreneurs reinvesting into the economy where they live.
Comparing a city to Silicon Valley is lazy- St. louis has the right idea. Washington University alumni in Silicon Valley being willing to meet with local entrepreneurs form St. Louis is great- it makes the link between Silicon Valley and home stronger, and that's great.