Keeping track of contacts across social networks can be exhausting. As the number of social networks grows, so does the information that you need to keep track of. Enter two such startups who are competing to be your go to app for mobile contact management: 5degrees and Cloudbot – the competitors in today's Startup Smackdown. Both companies are duking it out in the Chicago startup scene.
5degrees is a mobile app that pulls together contacts from across LinkedIn and Gmail in a feature-rich relationship management tool. Users can organize contacts, schedule activies, and more. 5degrees made it to the final round beating out competitors like Forecast at the SXSW Accelerator.
Cloudbot is a mobile app that functions as a social address book and unified inbox for apps like Facebook and Twitter. Cloudbot is backed by Lightbank, AngelPad, Hyde Park Angels, and Draper Fisher Jurvetson.
Let's see how they stack up.
Round 1 – User Onboarding Process
Overview: User onboarding is the critical process in which a user signs up and populates their data into an app. With contact management apps, the key process in onboarding is the ease of populating a user's current address book. Social contact management systems have the added complexity of populating data from multiple social accounts.
5degrees: The tagline of 5degrees is "remarkably simple", which definitely applies to the onboarding process of the app. After a user signs up with a username, password, and email, users must validate their signup via an email. The app first imports all local contacts from the user's mobile phone with the tap of a button. The app then invites users to sync their Gmail and LinkedIn accounts. That's all you need to do to start using 5degrees. The app offers a number of customization features that users can setup after the onboarding process.
Cloudbot: Cloudbot's onboarding process has one less step than setting up the 5degrees app. It doesn't require users to validate a new account via email before using the app. You can sync contacts from social accounts, including Foursquare, Instagram, Facebook, Twitter, and more. The app also syncs contacts from your mobile phone, but that interaction isn't called out like it is in the onboarding process of 5degrees.
Round 1 Winner: Cloudbot. One less step in the onboarding process saves time.
UX/UI Design
Overview: User experience and interface design is key for an app that is menat to be used on a daily basis. An intuitive UX helps new users understand how the app works on a minimal learning curve. An interface that is aesthetically pleasing helps new users make a snap judgement to trust apps with their sensitive information.
5degrees: 5degrees has a pop-out navigation sidebar that opens into five different screens allowing you to access contacts by an alphabetized list of people, activities, circles, tags, and social. A settings menu on the navigation bar opens up a second popout sidebar that offers enhanced customization settings. The app is easy to use and has a polished design that makes you feel like the company behind the app won't mismanage your contacts.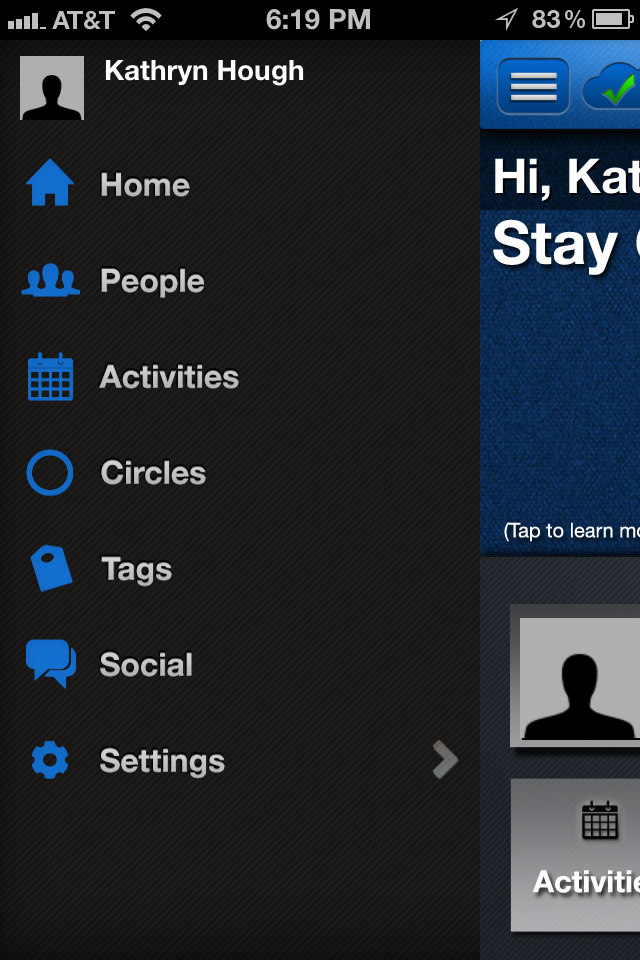 Cloudbot: Cloudbot has a ways to go in the design department. The font across the top of each screen is rounded and in all caps, which doesn't feel right compared to the overall boxiness of the app design. Also, there aren't many customization settings for your to manage and sort your contacts. The screen for an individual contact has a pleasing layout with a lot of key information tied in from all of the social accounts that you are connected to a contact with. The page does need to be polished up, though. Long tweets are cut off, and the screen could use some additional color to draw the user's attention toward specific actions on the screen.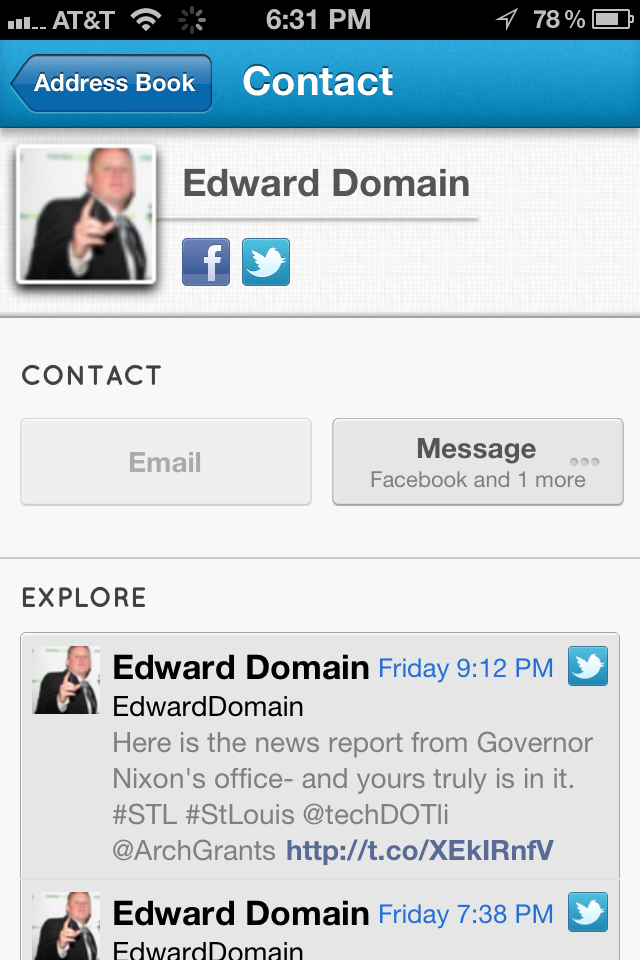 Round 2 Winner: 5degrees. Both the user experience and user interface design are more fully realized that Cloudbot's overall design, which seems half-baked.
Organization
Overview: One of the biggest problems with contact management is organization. As connected professionals increasingly have to manage conversations across multiple social platforms, keeping track of the type of contact (for example: acquaintances, leads, and colleagues) is critical.
5degrees: The 5degrees app allows you to organize contacts by tags and by circles. The app offers suggestions for circles like family, work, and friends, but you can create your own circles, helping you find groups of contacts with the tap of the circle icon.
Cloudbot: Cloudbot does not offer much in terms of customized organization. You can scroll through an alphabetized list of your contacts. Each contact has a small icon next to their name showing how you're connected to them. For example, if a user is connected to a contact on Twitter, Facebook, and locally, then the app icons and a small phone icon appear next to the contact name.
Round 3 Winner: 5degrees.
Startup Smackdown Winner
5degrees. Right now, Cloudbot has a more robust social integration and the ability to manage conversations across more social platforms, but 5degrees has a better design and solves the number one problem with contact management: organization.
Do you use either of these apps (or both)? Which one do you prefer?