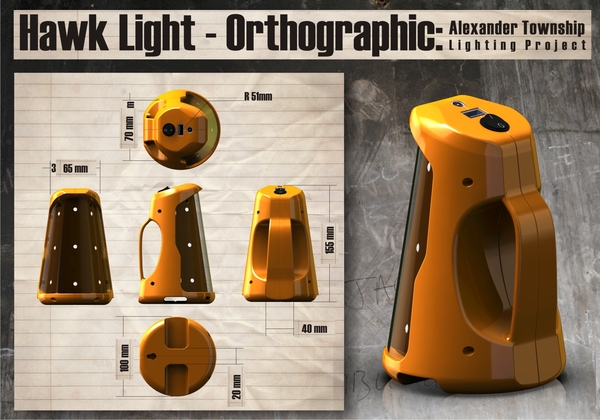 A South African designer has set out to provide poor citizens living in the Alexandra township of Johannesburg with a safe and affordable lighting alternative. Murray Sharp's goal was to design an easily manufacturable solar-powered lamp that would be much safer than the current fire hazards of paraffin lamps and dangerous live wires widely used by poorer residents of Africa's most populated city.
Sharp created the Hawk Light to be an extremely versatile source of both power and light. The design of the Hawk Light allows it to be positioned in a variety of ways, including upright on a tabletop, suspended from the ceiling on a cable, and even mounted on the wall. The lamp draws electricity from a separate panel that can be placed wherever it will find the best sunlight. Its lighting surface features three LED light strips at 60 degree intervals to provide the maximum range of light, which can be controlled by a dimmer switch on top of the lamp.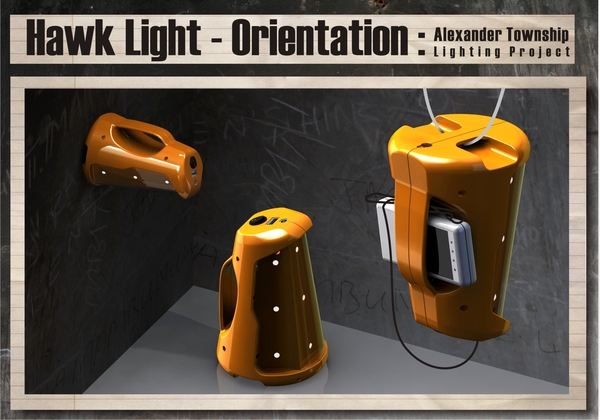 The solar lamp was designed with more than positioning versatility in mind. The Hawk Light functions as both a light and power source, featuring a USB port which can power cell phones and mp3 players. The solar panel plug-in can additionally be replaced with a direct wall plug, which can charge the lamp's battery whenever electricity might be available.
Sharp wrote that the lamp's title came from the name given to the dangerous live wires poor residents of Alexandra use to get illegal electricity. The live wires are referred to by residents as "nyoka," an African word for snake. He gave the solar lamp the hawk title due to the predatory bird's snake catching abilities.
The lamp was designed to be as easy to manufacture as possible, featuring a body that can be assembled using only three pieces. Aside from its original orange color, the lamp will come in olive drab, sky blue, deep yellow, and tropical red, but there's no word yet if the designer has seen any solid funding for the project. To see more concept art and design information be sure to check out Sharp's Behance page.