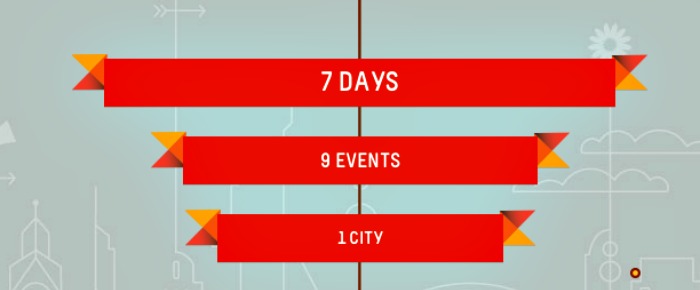 AIGA shined a spotlight on the best of the St. Louis design community during their seven days of STL DesignWeek programming last week. The event, in its second year, featured talks, events, tours, and exhibitions devoted to celebrating the contributions of local designers.
"The St. Louis design community has had a deeply invested group of innovators and iconoclasts, which has led to a kind of boom in recent years, of creative agencies and studios throughout the region, " said Deanna Kuhlmann-Leavitt, chair of STL DesignWeek and executive board member of AIGA, national. "By hosting a concentration of events, all devoted to the discipline of design – we hope to engage the community at large, and generate an awareness and appreciation for the kind of innovative work being done in our own backyard."
The week kicked off with ARTEFFECT at the Contemporary Art Museum St. Louis (CAM). Forty artists/designers were selected to exhibit one-of-a-kind skateboard decks that were made to represent a specific discipline of design, including tattooing and silkscreening. The decks were auctioned off to support the museum's youth programs.
On Tuesday, DART St. Louis hosted a participatory event at FK Photo Studio. During the event, attendees threw darts at an 8' x 8' map of St. Louis and left the even with a special assignment:to visit the place where their dart landed on the map and take a photograph there. The collection of images will be exhibited in early November.
Wednesday and Thursday events centered around more academic discussions concerning design for social change in urban areas and the intersection of design and business. Successful entrepreneurs who use design as the key differentiators in their businesses spoke at the Thursday business symposium. Speakers included: Seth Burgett, president and CEO of Yurbuds; Cheree Berry, owner of Cheree Berry Paper; Gerard Craft, president and executive chef at Craft Restaurants LTD; and Doug Powell, principal, Schwartz Powell and president, AIGA, national. The symposium was moderated by Bob Duffy, associate editor at the St. Louis Beacon.
Friday evening featured an exclusive preview of FORM Contemporary Design Show 2012, with Karrie Jacobs, founding editor of dwell, serving as keynote speaker for the event.
The design week weekend featured a fun family-friendly bike tour to showcase St. Louis' architectural landmarks on Sunday, and the fifth annual FUSION design exhibition showcased by the Industrial Designers Society of America/ St. Louis. The FUSION event also included an exclusive screening of Design & Thinking and a student design competition judged by design celebrity judges.
Average daily attendance for each event was between 400 – 500 people according to Kuhlmann-Leavitt. "If last year's design week was about engagement, STL DesignWeek 2012 was about extending our reach. The multi-disciplinary make-up of the programming, committee and attendees this year was astounding. The involvement by cultural institutions was impressive as well," notes Kuhlmann-Leavitt.
Congrats to AIGA for pulling off a successful event for the second year in a row. Stay tuned for information about next year's events.