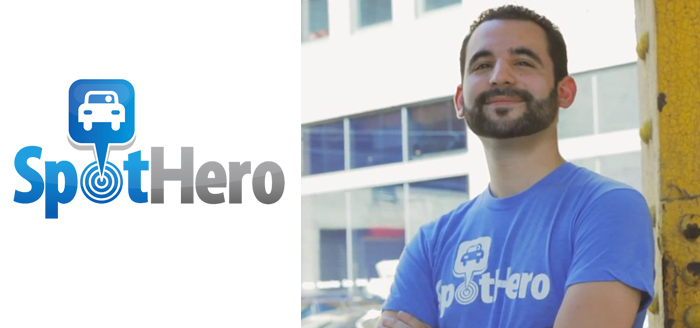 Today SpotHero, Chicago's online parking reservation startup, announced that it has raised $2.5 million in funding in a round led by Battery Ventures.  With an iPhone app already on the market, SpotHero has additionally announced the release of its mobile parking reservation service on the Android alongside the funding news this week. Other investors participating in the latest funding round include 500 startups, New World Ventures, and Lightbank, among others.
SpotHero co-founder and CEO Mark Lawrence said the latest round will help the company add software engineers to the team and improve the technology behind the platform. To date the iPhone app has undergone an array of changes, and SpotHero's mobile development team is hard to work continuously improving the smartphone experience.
"Technology is very important to us," said Lawrence. "We really want to make the product better… our goal is to make the web and mobile experience seamless."
SpotHero gives car owners the ability to skip the parking headaches by sorting through all available spaces or garages in their city and pay ahead of time to make sure there will be a spot waiting at their destination. The Chicago startup is a graduate of Excelerate Labs' most recent startup class, which netted them $50,000 in seed funding over the summer. Since its launch in 2011, SpotHero has pulled in more than $2 million in parking revenue.
With SpotHero already servicing Chicago and Milwaukee, Lawrence said the funds will also be used to expand SpotHero to other cities around the US. The CEO admitted that nothing has been fully decided yet, but said the company is currently looking into major metro areas.
"We're really proud of our growth and what we've done," said Lawrence. "But we don't look at this as a finished product… the focus is on improving the product and the experience for the customer."
SpotHero is available for free on both iOS and Android devices. Visit SpotHero.com to find out more about Chicago's hottest parking startup.
Image credit: Excelerate Labs