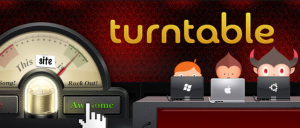 What's the only thing hotter than Turntable.fm? The chance to meet your fellow DJ's in person at a LIVE Turntable.fm event!
In conjunction with Social Media Week's Kickoff events, Tech.li is hosting a live Turntable.fm AfterParty! After you hit up Rockitt, come get down with social media & music lovers alike at English.
Bring your laptop if you want to DJ (turntable.fm doesn't yet support flash for iPhone & iPad users) and come hang out virtually and in real time as we open the room to the Turntable community to see who pops in for the night! If you don't want to lug your gear down, you can always add your music to the main queue, but we'll be the ones racking up your DJ points!
Never heard of turntable? That's okay- we'll still let you title yourself DJ for the night! The event is not just for those headed to Social Media Week, either — come one, come all, come hit the most unique AfterParty in the city of Chicago!
Check out the official invite & register at: http://smwturntable.eventbrite.com/
Join the social music revolution with

&

at Chicago's Social Media Week AfterParty!
DJ tickets get you a drink ticket,
some sweet 80's shades courtesy of Eventbrite
and your chance to win some free swag!
Tickets are $10 presale, $15 in advance, $20 at the door
Great drink specials all night thanks to English!

Sponsored by: