The majority of online shopping carts are abandoned before customers can finalize their purchases, according to new statistics released by web marketing solutions company Monetate. This results in millions of dollars in potential revenue lost for e-commerce sites.
One of the major barriers to completing a transaction is registering with a new site. Due to new social shopping aggregation sites, users may now be required to register with multiple sites to complete their transactions. One solution that e-commerce sites are now considering to alleviate this problem is a concept called Social Login.
Social login is a tool that allows users to bring their information with them as they surf from site to site, thereby eliminating the need to register with new sites to make purchases and offers customized experiences with brands. Companies like Gigya, Janrian, and Monetate are now offering services that allow users to sign in to new sites by using their identities on sites like Facebook, Twitter, Google, and Yahoo.
According to a recent survey by Monetate,  only 40 percent of users prefer signing in to sites this way; however, this number is up from 28 percent last year. As consumers become more familiar with social privacy protections and the convenience of online shopping, this number is expected to grow.
Brands currently using social login include Samsung, Whole Foods, and Sears. In fact, more than 365,000 websites worldwide rely on Janrain Engage, the social login product developed by industry leader Larry Drebes. Drebes is a serial entrepreneur who helped pioneer the concept of social login and is a founding member of the non-profit OpenID Foundation.
OpenID was created in 2005 by an open source community that wanted to allow users to access and login to multiple websites while letting individuals control the type and amount of information that was shared with one ID. Currently, there are more than 1 billion registered OpenID accounts.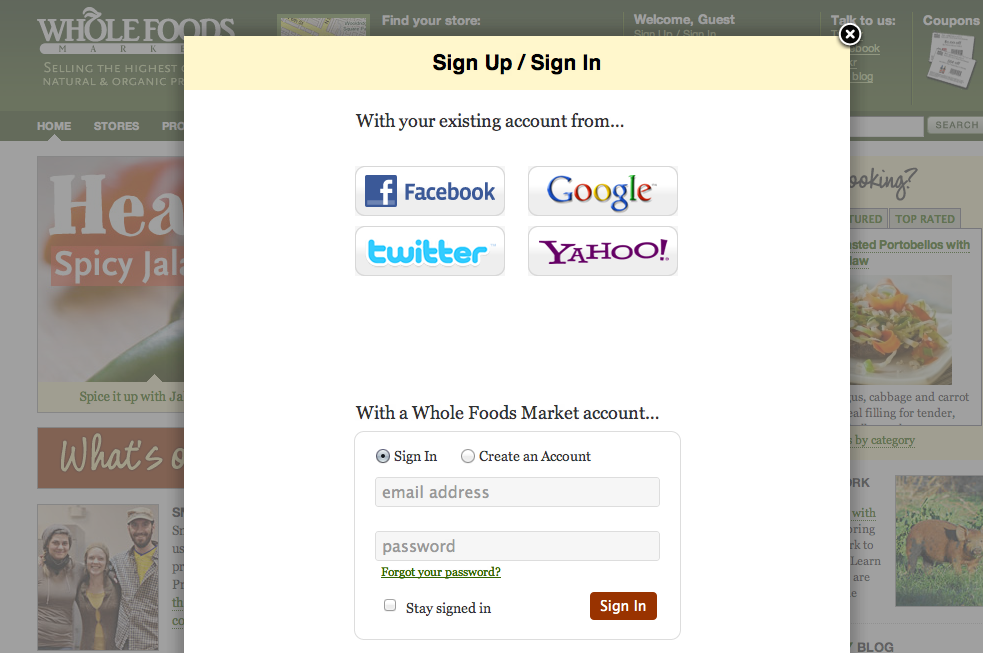 Consumers reportedly spend three times longer on sites that use social login than sites that do not offer, which can result in higher engagement with products and the brand. Individuals who comment on a site using this method spend, on average, 15 minutes on it, whereas users who are not given the option to user their social identities spend five minutes on a site. The same is true for the average number of pageviews. Users who sign in with social login view 11 pages on average, and users that do not view four pages.
Additionally, social login provides extra benefits that a site-specific signup cannot. For example, it provides key demographic information like birthdate, gender, and location, which can be used to provide a more targeted experience.
The demand for social login is growing by both users who want the convenience of shopping securely across multiple sites, and brands who want to leverage knowledge about the demographics and social graphs of shoppers. As more brands adopt this tool, they will most likely see a steep drop in shopping cart abandonment and a jump in sales.