Chicago, Illinois is a red meat eating kind of town. Thanks to the city's world-renowned steakhouses, sausage purveyors, and butchers, it's only natural that the social commerce startup Red Meat Market is building an enthusiastic community of local and sustainable meat lovers in Chicago. Now, the city's administration is giving Red Meat Market the thumbs up to participate in Chicago's weekly farmer's market in Daley Plaza. The first "Outdoor Local Meat Market" will be held at Daley Plaza on Thursday, October 18, 2012 from 7am – 4:00pm.
The decision to highlight local, sustainable meat at the Daley Plaza market is a strategic move by Mayor Rahm Emanuel's administration. Mayor Emanuel has been dedicated to making healthy food accessible to citizens of Chicago, according to Red Meat Market founder and CEO Mark Wilhelms. "The mayor is kicking butt! He realizes that bad food is making people fat. Bad meat is bad for you," Wilhelms says.
The October 18th event will feature butcher demonstrations by Rob Levitt of the Butcher and Larder and Cosmo Goss of Publican Quality Meats. Chefs from Sopraffina Market Caffe, and Kendall College's School of Culinary Arts will be on site for demonstrations, and educational talks will be given by Dan Rosenthal of the Green Chicago Restaurant Co-op, Dr. James Galloway, Asst. Surgeon General, and The Zen Butcher, Bartlett Durand.
The Building a Healthier Chicago committee asked Red Meat Market to co-chair this year's Food Day event, which is part of a larger series of national Food Day events taking place in cities across America on October 24. Chicago's Food Day includes a special section dedicated to local meat.
Events are central to the vision of company. Red Meat Market is a social commerce site the blends education, content, and events all tailored to people who love red meat. The site sells meat too, but at its core, Red Meat Market is a community that empowers meal lovers and meat purveyors to work together to support the local and sustainable meat system.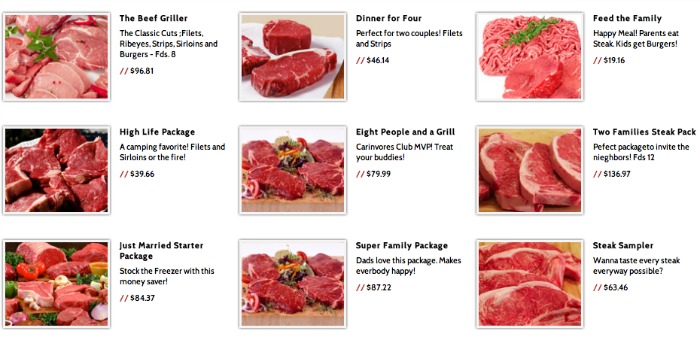 "You have to have a movement before you can get anything done," notes Wilhelms. He's is quick to add that Red Meat Market is not a grocery store online. "The mistake people make in social commerce is that they don't pay attention to the community," continues Wilhelms.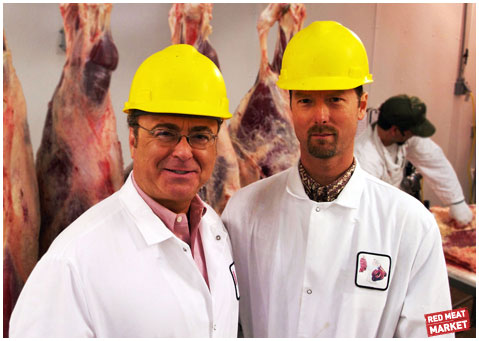 Red Meat Market is currently bootstrapped, but is seeking investors. The company is raising $2.5 – 3.5 million, with $1 million already committed. The company will use the money to expand cattle processing and retail capabilities. Red Meat Market needs to process more steers each day to meet the demand for meat. "We don't want to send our cattle down to Kansas City. We need to send cows on a short gooseneck ride. It can't be scary for the cows to hear loud machines, and it creates fear. The panic causes hormones to be released, and it destroys the meat. We want to create a human handling processing plant," continues Wilhelms.
Wilhelms comes from the world of advertising and digital marketing, and it shows. His inventive language and enthusiasm is peppered throughout his company's branding. Whether he is talking about "meat up" events or promoting group buying on social platforms, Wilhelms is using his talents to give back to the planet and his community by kicking the grass-fed sustainable meat movement up a notch.
"Chicago is where the meat came from. We have the best cutters in the world. This is the place to do it," notes Wilhelms. With the Mayor on his side, it's almost a sure bet that Red Meat Market is going to convert the city into believers.
Images courtesy of Red Meat Market.