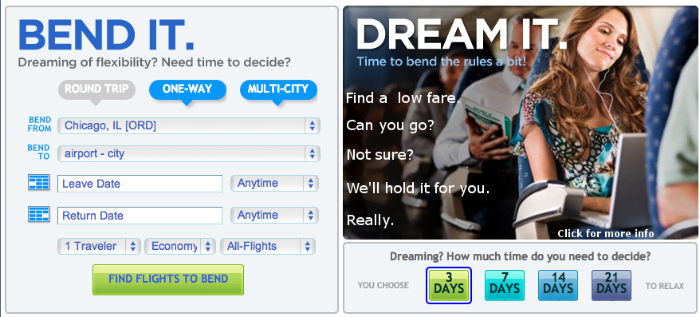 Chicago-based startup BitBend wants to save travelers from having to make snap decisions about flights. Instead of operating under a flash sale model like many online travel booking services, BitBend allows travelers to hold a flight for weeks until they finalize travel plans.
Although BitBend is still in closed beta, the company is planning to release their product to the public on November 1. Co-founders Robert Brown and Heidi Brown both left positions in finance to solve a problem that they frequently had while traveling as part of their former careers – flight scheduling. Robert Brown was formerly the Senior Managing Director at BGC Partners and the CEO of 4D Trading. Heidi Brown lived in Germany as a relationship specialist for a European Bank, and is a member of The Adler Planetarium Women's board. The duo is working with airline industry strategist Tom Bacon, who has 25 years of commercial airline experience including executive roles at American Airlines, America Eagle Airlines and Frontier Airlines.
People who miss travel opportunities because they don't buy their tickets within 24 hours of finding the perfect flight online will benefit from BitBend's service. Anyone who has tried to corral a group into buying airline tickets for a destination event, or people who like to take a lot of spontaneous trips like Heidi and Robert Brown know that ticket prices rise drastically while travels are still coordinating other trip logistics.
Robert Brown explains the differences between BitBend and traditional flight booking systems like Orbitz and Kayak by pointing out the the flight calendar on BitBend allows travelers to see both flight costs and how much it would cost them to "bend" a flight. Bending a flight is different than holding or booking a flight. Travelers can choose multiple options to "bend" (three days, one week, two weeks, or three weeks) so that they can decide to stay a few extra days at their trip destination before returning home. Bending a flight is like purchasing the right to buy a ticket at a specific price and time. For people who are familiar with the financial industry, this model will sound familiar.
BitBend was bootstrapped, but the company's profile on AngelList states, "We are successfully raising money, have a well defined revenue model and are quickly moving toward a Q4-2012 launch".