Flurry Analytics has released a revealing report showing social app usage catching up to the once-dominate gaming app category on smartphones. The new statistics show that social networking app usage has become dead even with gaming apps since Q1 of last year. Flurry noted that since it began tracking apps in 2008, this is the first time any other app category has approached the same amount of usage as games on smartphones.
In 2011, smartphone users on average were spending 25 minutes (37 percent of the average time) in gaming apps and only 15 in social networking apps each day. After tracking around 110 billion application sessions this year, the company has found that those numbers have become deadlocked at 31 percent of overall usage each, or 24 minutes on average each day. The study also found the overall average daily smartphone usage increase from 68 to 77 minutes between 2011 and 2012.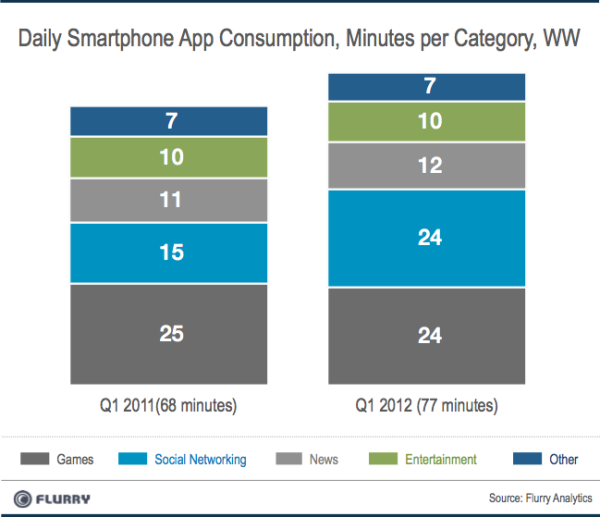 A truly interesting statistic found in the study is just how rapidly advertising revenue from social apps has grown this year alone. Data collected from over 300 million unique devices across both iOS and Android platforms found that since February, social app ad revenue has grown from 24 to 37 percent, even surpassing game app revenue, which grew by only 1 percent. The company gathered the statistics using data from its AppCircle traffic acquisition network over the last three months.
With the rise of better and more robust social app experiences it's very likely by next year we'll see gaming apps surpassed by social networking apps in terms of usage, and perhaps even further in ad revenue. After so many big acquisitions have already happened this year, like Facebook buying Instagram for $1 billion or Zynga acquiring OMGPOP and its runaway hit Draw Something for $200 million, the quickly growing value of the mobile app market has been remarkable, to say the least. It's anyone's guess which new social app will hit it big next, but there's certainly no doubting the bright future for social networks on smartphones everywhere.