Originally designed to make carpooling easy for 2011's Burning Man Festival, Ridejoy has expanded their mission of making "carpooling happy" to 45 states. Although easy on the environment and the wallets of participants, carpooling can be intimidating to new users. Ridejoy attempts to solve this by bringing a social aspect in the form of detailed user profiles and a feedback system to build credibility and make the entire experience more trustworthy.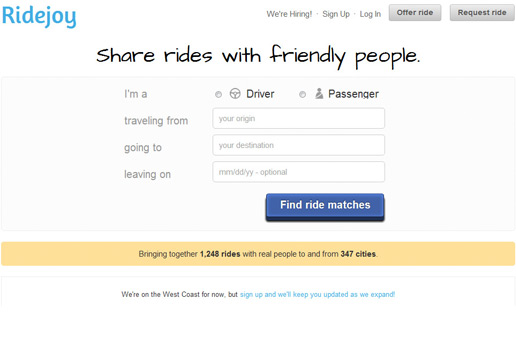 The site first attempts to establish a user's validity by linking a user's profile to their Facebook account. Ridejoy encourages users to complete profile information to build credibility. After registration, a user can filter through ride offerings as well as sign up for email updates of ride matches. With a ride review and reference comoponent of the site, Ridejoy can help build a user's credibility and make ridesharing a safe, social experience.
Cofounded by Kalvin Wang, Randy Pang, Jason Shen, and Margot Leong, Ridejoy is a free service to use. Drivers can offset travel costs by requesting prepayment. Ridejoy monetizes their service by applying a small fee to these transactions.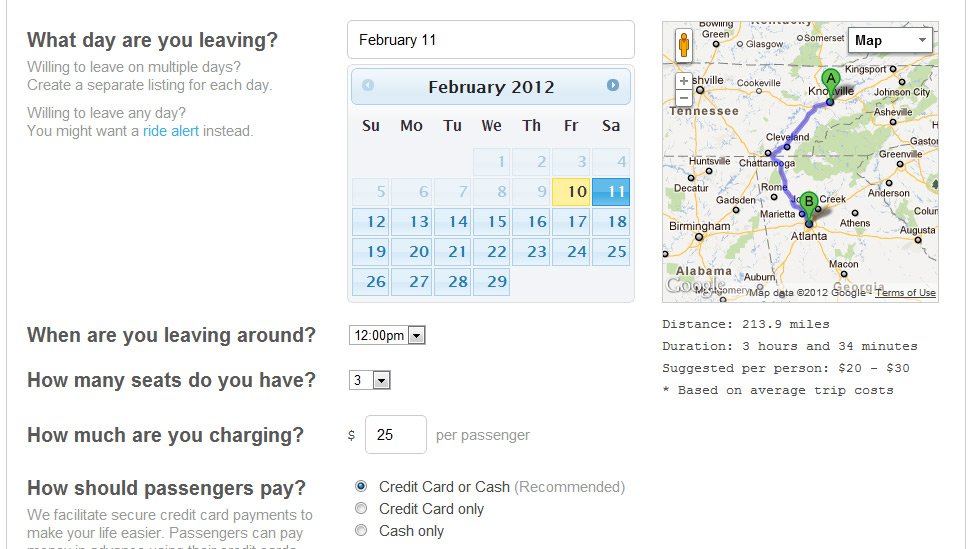 After signing up, I tested the service by offering a ride from my native Knoxville to Atlanta. Based upon the length of the ride, the site automatically calculated a suggested fee to charge riders. Ridejoy will retain a small portion of this fee in to monetize the service.
With a bevy of ridesharing options available like eRideShare, SunyRide and Craigslist ridesharing, there is plenty of competiton. However, with 1000 active rides spanning 300 West Coast cities, the growth of Ridejoy is undeniable. The service already offers rides to other major western cities such as Tahoe and Las Vegas. Co-founder Jason Shen sees the service as eventually being accessible to drivers nationwide. Users are pushing the growth further and further east, and the site doesn't limit the cities in which rides can be offered.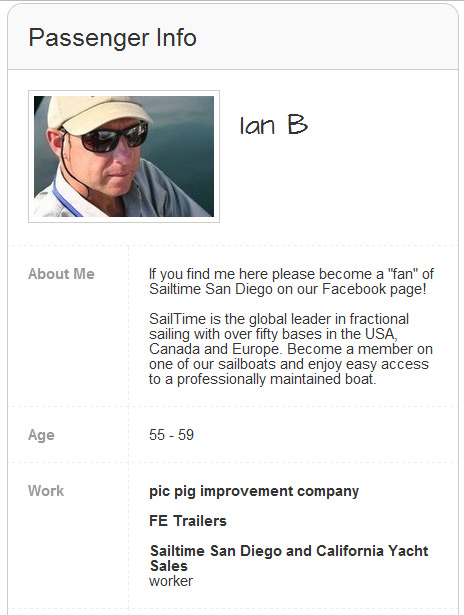 Ridejoy helps users to feel more comfortable with the Ridesharing experience by encouraging the use of profiles that includes user generated feedback.
Ridejoy shows potential of major growth after a $1.3 million seed funding round led by Freestyle Capital that included investors such as SV Angel, Founder Collective, Lerer Ventures, Y Combinator, Start Fund and angels such as Ben Ling, Joshua Schacter and Owen Van Natta. With the funding, Shen tells me that the company plans to bring on a new UX / UI designer and engineer.