It is an interesting theme, coming from a company one might consider the world's largest startup.  After all, isn't that what General Motors is?  After all, straight out of bankruptcy, GM is doing a lot of what new startups or early stage companies do: scramble to reboot, start fresh, and then if you are successful enough, do an IPO.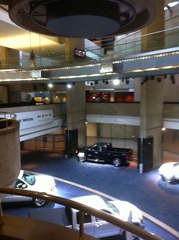 This afternoon, the Detroit Economic Club (DEC) hosted Dan Akerson, Chairman and CEO of General Motors.  It was a sell-out crowd with 800 attendees expected.  Frequently changing venues, today's event was hosted at the Detroit Marriott at the Detroit Renaissance Center.
An aside, if you were not aware, the RenCen (to Metro Detroiters) was purchased by GM in 1996 as its world headquarters. As you might expect, the central gathering areas are typically used to showcase their latest products. It has also been the featured backdrop for recent hit movies, like 'Real Steel' with Hugh Jackman.
For a fleeting moment, it must be entertaining to be CEO of a company whose headquarters is also a popular backdrop for some of Hollywood's movies. Shucks, even Apple cannot claim that distinction. If nothing else, going from one tower to the next, Dan Akerson's commute to the event was probably the shortest among us all.
I find it interesting to observe the different big names that speak at the DEC. Though not always the case, they are frequently every bit as committed to them as the CEO of a five-person startup. And that was evident today, listening to Dan Akerson.
He frequently mentioned his granddaughter. How he used to see her perhaps 3 times a week before becoming CEO.  Now, it has been six weeks since thier last visit. The personal side is something that does not come across in 5-second media clips. The media leaves you with an impression of sterile, cold individuals. Quite the contrary, Akerson indicated (without bonuses) the senior team is fully engaged for the love of what they are doing. Yes, love. Still sounds achingly like a startup, eh?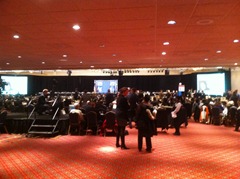 Akerson pointed out that product is, and always will be, the key to GM's success. He views GM as a holding company for the various brands, some global, some regional. Clearly, GM is pleased that the Chevy (Chevrolet) brand is doing exceptionally well. Interestingly, the Chevy Cruze is #1 in its segment. The Toyota Corolla, dead last. In Europe, GM's Opel was one of only two brands to grow.  GM is delivering new products across a number of markets and performing positively.
Doesn't sound like the General Motors of even 36 months ago, does it?
Speaking on weaknesses, Akerson touched on GM's intellectual property. He described how their intellectual property had been underutilized before the bankruptcy. Akerson confidently stated that GM is a great company in the intellectual property space. The clear message: they will be leveraging it more moving forward.
The best leaders are willing to look at their own failings as well (not just 'them,' but their teams as well). Speaking of problems leading to GM's massive stumble, he clearly stated, "it was not all the union's fault." He cited numerous programs that, for various reasons, were frequently halted. Multiple false-starts if you will, amounted to $1B one year (in 2000, I believe he said).  These failings directly impact the bottom line (they don't just get buried).
The strong parallel between Akerson and many small startup leaders was evident. He did not speak of high-minded esoteric philosophies. What he did speak of were his views on what good leaders need. Integrity. Be a servant leader. To lead by example. To be willing to make the hard decisions. Last but not least, he feels we owe it to our kids to leave the world a cleaner place than we found it. So there you have it. From a guy who leads one of the largest corporations in the world, straight-forward, no BS, down to earth, and easy to understand.
I could certainly spend another few hundred words speaking about their intent to maintain leadership in vehicle electrification; key focal points for GM moving forward, and things like their being successful in helping guide creation of better CAFE standards.  They were all good things, too.
For Tech.li readers though, I really felt there was value in looking at the strong similarities between GM and more traditionally viewed early-stage startups.  Rather than sitting atop an ivory tower preaching from on High, the view we were given shared strong parallels in leadership, focus on products and market segment, developing intellectual property, and personal commitment.
After all, I am sure Dan Akerson still puts his pants on one leg at a time, too.